Difference between revisions of "Advertising Networks"
Jump to navigation
Jump to search
Line 59:
Line 59:





[http://www.subscribeomatic.com http://www.subscribeomatic.com] - Subscribe-o-matic

[http://www.subscribeomatic.com http://www.subscribeomatic.com] - Subscribe-o-matic

=== RezzMe Advertising ===

We have developped a Gridwide Advertising Network where each billboard is a kiosk by itself and people can purchase their ads.

* Free Advertising to anyone who host one of our billboard

* Cheap ad solution for business

* Your ad also appear on our website

* Ad creation service

* Creation of Promotional items

* All our billboards can also link to a website, give items, give landmark and give notecard

To find out more about our advertising network visit our website at: [http://rezzme.com http://rezzme.com]






=== Other ===

=== Other ===
---
Revision as of 17:19, 6 April 2015
There are several companies supporting distributed advertising networks in Second Life. The distributed network usually means that company have partners, or publishers who display ads on their parcels.
The advertising materials (images along with landmarks, urls or notecards) are delivered to the publishers' parcels automatically.
These are links to companies with ad networks in Second Life. Some of these are listed in the Tools directory on the Second Life Grid website.
Networks
ADS Company - SecondAds Grid Wide Advertising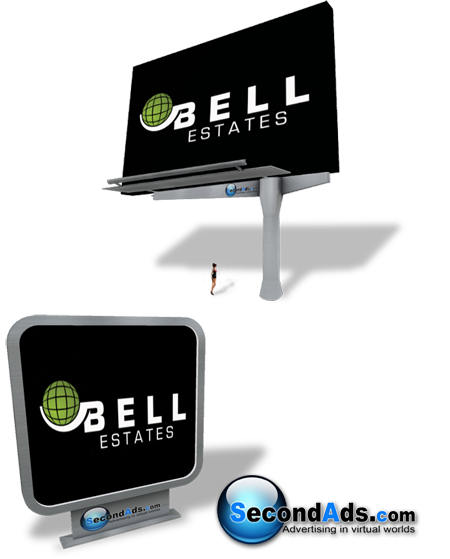 SecondAds is a virtual advertising agency that runs most successful grid wide advertising network in SL. Dedicated to grow and evolve ad networks for virtual worlds with belief that advertising is as important and crucial for existence of virtual businesses as for any other real life business on world wide web. Concept is taken from most prominent online ad networks such as Google Adsense and Yahoo ad network. Ad network system lets people with virtual lands benefit from their traffic by displaying ads through our SecondAds Ad Publishers boards placed grid wide.
Second Ads website Second Ads on SL Marketplace
Recently SecondAds have developed the revolutionary Goldtokens.net gaming tools that allow landowners to bring gaming traffic to their sims. This network enjoys a high participation rate with many thousands of active users per month.
SecondAds also operates KingdomsAndEmpires, an online web browser based strategy and trading game. K&E is currently played by several hundred players participants from Second Life. KingdomsAndEmpires lets SL businesses to advertise as sponsors of players community with proceeds from the advertising shared to all K&E players.
Apez
Apex is a SL vendor network which offers advertising services in form of web banners.
The large list of participating websites allows Apez to distribute your ad widely instead of displaying it on a single website.
http://www.apez.biz - Apez.promote advertising service
GroupCast Marketplace
GroupCast is the advertising marketplace dedicated to Second Life groups.
With GroupCast you can place your ad on the groups of your choice. You can setup a complex schedule and send ads automatically. Vise versa, if you own a group and want to earn Lindens, list your group with GroupCast. You will expose your group to hundreds of advertisers!
http://www.gpc2life.com - GroupCast Website
SLURL - GroupCast in-world office, at DuoLife
RezAds - Grid-Wide Advertising
RezAds is a pay-per-click billboard ad network that has been in Second Life since 2008. As of 5/01/10 have 449 billboards in over 200 different regions within Second Life. They charge 10L/click to advertisers who are shown in real time who is clicking on their ads and from where. They also allow anyone to become a publisher by hosting various size billboards. Setup is completely automated for advertisers and publishers.
http://rezads.com - RezAds Website https://www.xstreetsl.com/modules.php?name=Marketplace&MerchantID=201685 - RezAds xStreet Information
SL Business Directory (SLBiz2Life)
SL Business Directory offers lot of second life advertising services, including:
Free listing of SL business (the directory is seems to be a largest one at present time)
Guaranteed Visitors
Picks Booster (the tool to boost the business position in SL Seach)
Second Life search analysis tools.
If you are looking for pay-per-click billboard ads, check the Ad Fusion network
http://www.slbiz2life.com - SL Business Directory (Second Life advertising services)
Subscribe-o-matic
Subscribe-o-matic is a great collaboration tool which offers functionality similar to SL groups, but with extended features.
http://www.subscribeomatic.com - Subscribe-o-matic
Other