Calleta Monorail
Jump to navigation
Jump to search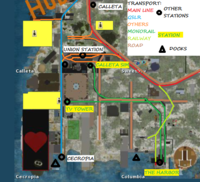 Calleta Monorail is a new multisim railway system, created in Calleta City, Heterocera.
In summer 2014, Ralf Halfisch railway complex vanished from its previous location (close to Anilis) and moved in Calleta City. The result was an economic boom for the city, highly affected by the death of West Atoll Railroad. Many parcels from Columbia, Cecropia and even Calleta were included into this great rail project. Construction advanced very fast.
There are actually two monorail branches and a railway. All 3 have the same terminal station, close to a harbor. The first monorail connects this harbor with Calleta sim Union Station, in Calleta. The second one, moves to West, to Cecropia, where it stops at TV Tower, close to GSLR tracks. The railway is connected to main rail network in Columbia. Monorail lines are elevated, except for small parts of their routes. They use the same model of track used in some parts by East River Railway and use vehicles similar to those existing on Second Norway Railway or German Railway, with a modern design.
The other Monorails on the grid use suspended vehicles, but Calleta Monorail uses a wide track.
Automated Transportation is present. There are trains moving on the two monorail lines. No vehicle is currently driving on railway. Also, at every hour, a ferry is connecting the harbor with Purple Docks. The connection to Calleta Sim Union Station is very important, because it connects the monorail system with entire network system of Heterocera, with GSLR, with SLGI Trains and Yava Script Pods that transit the area.
NOTE: Calleta Monorail was removed during the transformation of Calleta City Airport to Smugglers Port in late 2017.
See also