Heterocera Route 2
Jump to navigation
Jump to search
---
Return to main : Heterocera_Network
---
Route 2 (North Heterocera Coast Road)
Route 2 is just over 13km long. So get out there and explore it today!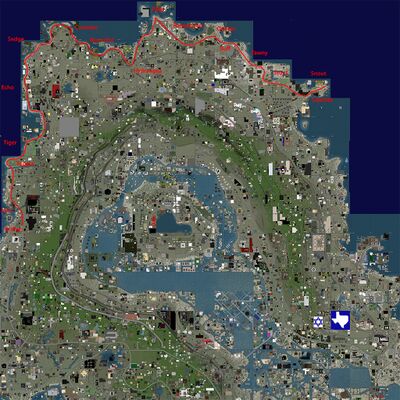 click image for larger version
Route 2 Pier and Picnic area, Snout
A pier and dock linking the highway to the sea at remote Snout Point, a place to sit at your journey's end (or
beginning) and gaze out across the wide ocean
Route 2 Market Square and Railway Station, Satellite
A historic market area, currently under regeneration, several traders are trying their hand here already, with
doubtless more to come as the highways converge upon this prime location, don't steal from the stalls, you may end up
in the stocks !
Link with Route 5 expected soon
Now with railway access from Spangle Station .. Go SLRR !
You can rez in this area.
Route 2 Junction and Picnic Glade, Sallow
An island of greenery delineated by a triangular road junction, have a romantic picnic here, screened by the trees
Route 2 Seaview Spur, Sallow
A turning area and access point to the ocean at the end of a tree-lined cul-de-sac, picnic facilities of course !
Route 2 Bridge and pools, Tawny
The watercourse has been dammed here in the past, so for the moment the river stream trickles through choked pools and
rusty culverts as it passes beneath the arching span of the old bridge
Route 2 Old Viaduct, Eggar
Development has raised the level of the land here, and the small valley spanned by the viaduct shows few clues as to
it's original purpose, however the arches still provide shelter from the elements for flora and fauna, and it might
appear, tramps too !
Route 2 Great Seawall, Buff
Just around the corner from a picnic parking lay-by with panoramic views across Buff Bay, stretches the long stone line
of Buff sim's coastal defences. You can stroll onto the short pier and along the boardwalk promenade which offers a
bracing ocean breeze on wilder days.
Route 2 River Bridge, Buff
Spanning the estuary into Buff Bay, this bridge offers further views from it's relative elevation above the rushing
waters
Route 2 Arboreal Roundabout, Buff
Three roads converge here at an old tree of such character and antiquity that a roundabout was constructed around it to
preserve it's majesty for all to admire, quite what species it represents has been open to much controversy !
Route 2 Iron Bridge, Quaker
Although lost in modern development, this relic from the industrial revolution, now spanning little more than a dried
up canal basin, has been fully restored and shined up to something of it's former glory, even passing a health and
safety audit recently with flying colours !
Route 2 Zebra Crossing, Ginsberg
Abbey Road anyone ? ... well, not many zebra crossings in SL but this one links the adjacent gallery and shopping areas
either side of the road in Ginsberg, so that prospective visitors are safe from being mown down by cars, juggernauts,
mole-tanks, whatever other powered object may be passing through on the busy highway !
Route 2 Ocean Boulevard, Ranunculus
The Route 2 highway widens here into a wide boulevard through a large commercial area, close to the ocean, in the far
north of the Atoll continent.
Route 2 Reef Dive, Fillip
When you hit the traffic circle in Fillip, put on your swim gear and head north. Explore the fish filled coral reef
and a sunken ship, catch a ride with a friendly sea turtle, and possibly even find some treasure!
Route 2 Warning, Fillip
Watch Your Step! As you aproach Fillip Roundabout there are multiple sim crossings!
Route 2 Rezz Zone, Ambrosia
Enjoy the various dock areas along the road when you come to rezz your vehicle.
Route 2 Bridge Road, Hydrangea
Take a shortcut on the fun bridge road.
Route 2 Rezz zone, Hummingbird
Rezz Zone.
Route 2 Docks, Mournful
Enjoy the Docks on the border of Mournful and Huckleberry.
Route 2 Timber Bridge, Consular
Drive the timber bridge, or enjoy the secret places beneath.
Route 2 Rezz Zone, Oakworm
Rezz Zones available here for both land and water.
Route 2 Park, Oakworm
Enjoy the park on the border or Oakworm and Sedge.
Route 2 Park, Scoopwing
A rocky outcrop on the water.
Route 2 Waterfall, Dahana
Quench your thirst along your journey.
Route 2 Dock, Echo
A small dock with land and water Rezz Zone.
Route 2 Coastal Falls Crossing, Girdler
The coast is broken and steep here, and a bridge takes the highway over a high falls tumbling down from above the road
level.
Route 2 Ocean View, Girdler
The highway turns sharply round the coast here, forming a natural viewpoint over the ocean. A viewpoint and rez zone is
here for your use.
Route 2 Tiger - Togata Tunnel, Tiger/Moma/Togata
Difficult terrain here necessitated a deep bore through the hillside to link the regions, and a substantial stone lined
tunnel exists here to allow free passage. Excavations also opened up a surprise in the hillside !
Route 2 Ocean Panorama, Togata
Another sharp turn in the road to follow the coast opens up a wide vista across open ocean. Travellers may stop and
tarry a while here at the viewpoint.
Route 2 Oriental Bridge, Togata
A wide ocean estuary ravine here requires a bridge to span the gap and an elegant span of vaguely oriental outline
performs this task.
Route 2 Stone Viaduct, Emmelia
A stone viaduct carries the road securely across the ravine into the ocean at Emmelia. A small decrepit dock lies in
the waters below for those wishing to go boating.
Route 2 Western End, Emmelia
The western end of the Route 2 link road lies here at a small picnic area, near junction of two roads coming up from
the south in Brithys.
Route 2 Rezz Zone, Manduca
Rezz Zone.
Route 2 Intersections, Woolybear
A lovely landscaped area in the midst of many intersections.
Route 2 Rezz Zone, Azalea
Rezz Zone.
Route 2 Rezz Zone, Ello
Rezz Zone.