Huffman Microcontinent
Jump to navigation
Jump to search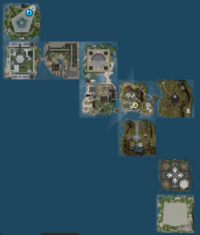 This is a Microcontinent placed at Coordinates 525-529/1370-1375, Grid Sector E13, North - West Ocean. It also has the temporary name A072. Majority of sims share the world Huffman in their names.
Geography
This microcontinent is formed of 10 sims. Altitude varies, but is not too high. There is Water present.
Constructions
There are many types of buildings here, usually high-tech ones. There is a monorail in a sim. In Coalition Island there is a glass building where it is written United States Military Islands. There are amphitheaters in some places and many impressive buildings.
Land Status
Land access is free. An interesting fact is that there are multiple estates and one of the estate owners is a Linden official. Maturity rating is set to General.
See Also
List Of Microcontinents And Sim Clusters