Received Items Beta Testing
Jump to navigation
Jump to search
Overview
Received Items is the new feature which means that almost everything returned/delivered to Residents inworld will end up in the new Received Items folder. It has a fancy new user interface in the Second Life Viewer on the inventory panel. Coincidentally, Direct Delivery, which is the new delivery method on the Marketplace, sends all Marketplace purchases to the Received Items folder. Because of this overlap, Received Items and Direct Delivery will be released together.
Learn more in the "Received items (Beta feature)" Knowledge Base article.
03-01-2012 - Update by CommerceTeam Linden: "Direct Delivery will launch with all Direct Delivery purchases going to the Received Items folder. We will be speaking with Residents to get feedback before we release any ADDITIONAL changes that result in objects being sent to the Received Items folder."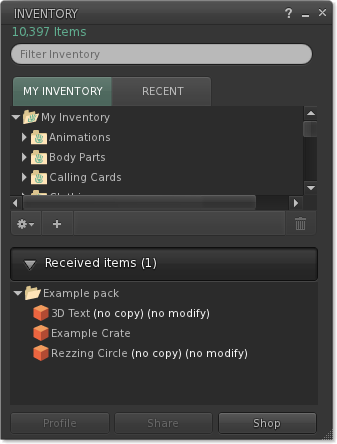 Details
Who: You!
What: Try out Received Items and Direct Delivery
Where: ADITI, the preview grid.
When: Ongoing
Why: To verify successful inventory delivery in a reasonable amount of time.
How: However you can.
Received Items Testing
Testing is a easy as rezzing existing inventory items, creating new items, taking or taking copies of the items, and transferring inventory items between accounts. You are testing to see that any items you newly receive end up in your "Received Items" inventory panel. (Items you rez and take back will go back from where they came from.)
Step 1: Log into ADITI
Step 2: Teleport to a random region chosen below:
Step 3: Start performing various inventory operations.

Derez an object.
Remove an attachment such that it tries but cannot rez and must be returned.
Create a landmark.
Create an inventory link or outfit.
Create an inventory item.
Create a notecard.
Copy a notecard.
Create a notecard with contained inventory.

Pass this notecard to a friend so that they can copy the inventory.

Add a calling card.
Buy an object in-world.
Buy content from an object in-world.
Give inventory (various object types) from a script to a user.
Give inventory (various object types) from a user to another user.
Move objects back and forth between inventory and an inworld object (as a container for those objects)
Examples of what goes into Received items
Anything new to your inventory that you Take or Take Copy.
Anything you rezzed in someone else's parcel and they have Returned.
Inventory offers from other users.
Inventory from scripted objects.
Marketplace purchased items.
Regions
Special Testing Parcels
We have some special parcels set up to help facilitate testing needs.
No rez, no object entry parcel
No rez, parcel
No object entry parcel
Fast autoreturn
Reporting issues
File bugs in JIRA using this link for any issues you find. Select the component "Inventory".