Second Life 6th Birthday
Jump to navigation
Jump to search
| | |
| --- | --- |
| | This article is obsolete, but kept as a historical record. Do not rely on this information in any way. However, it may be used in the future, so please do not delete or modify. |
Watching Philip's Speech
Philip Linden will provide some closing remarks at the Second Life 6th Birthday celebration on June 29 at 11 am SLT with a speech from the SL6B main stage. There is limited seating available, so if you are unable to access the stage you have a couple other options.
To watch on the web, head your browser to http://www.treet.tv/live.
You can also get a free Treet TV for your home from XStreet, or visit Treet's Northpoint Studio in Second Life and pick one up there. Deed the TV to your land and away you go. The SL6B opening remarks will be on the Live channel.
There will also be some Treet TV monitors set up in SL6B Android and SL6B Futurist, and SB6B Hologram for your watching pleasure.
SL6B Main Stage:
http://slurl.com/secondlife/SL6B%20Uplink/34/228/46
http://slurl.com/secondlife/SL6B%20Void/231/224/46
http://slurl.com/secondlife/SL6B%20Hologram/29/27/46
Overflow Locations:
Android Stage, http://slurl.com/secondlife/SL6B%20Android/127/127/29
Futurist Stage, http://slurl.com/secondlife/SL6B%20Futurist/13/121/24
Synchronity Amphitheater http://slurl.com/secondlife/SL6B%20Hologram/198/105/40

PLEASE NOTE: This is NOT your last chance to see SL6B. The gates will be open for another week for your exploration!!
Happy Birthday Everyone!
June 23, 2009— marks 6 FULL years of Second Life. To celebrate 6, and our passage into year 7, your fellow Residents have been busy for months, planning a 20-Region party around the theme "The Future of Virtual Worlds". Come by after 10 am SLT, as they turn on the lights and throw open the doors. Philip Linden will start the event at 10 with a talk at the main stage. And the exhibitors have a lot to show you. See what they think the future will be like! They've created a burned-up meteor called Dallier's Hope with hundreds of exhibits awaiting your exploration, from the hilarious to the deeply thought-provoking. http://tr.im/SL6Bexhibits
Hundreds of events are planned as well: great music, panel discussions, demonstrations, tours, treasure hunts and more. http://tr.im/SL6Bevents
The party runs through June 30, with a closing speech by Philip on June 29 at 11 am SLT. Mankind Tracer, Resident Choice Award Winner will kick off the exhibition on the 23rd. Internationally renowned band SpaceJunky will close the event with a 2 hour concert.
We hope to see you pop in at one of the points below.
The Paradox Main Landing Point & Cloning Station
http://slurl.com/secondlife/SL6B%20The%20Paradox126/127/194
http://slurl.com/secondlife/SL6B%20The%20Paradox128/98/187
http://slurl.com/secondlife/SL6B%20The%20Paradox104/128/188
http://slurl.com/secondlife/SL6B%20The%20Paradox128/152/187
http://slurl.com/secondlife/SL6B%20The%20Paradox151/128/188
If it's too crowded there, here are some other good starting points:
Cryo Information Station Titan Information Station Volunteer Headquarters Main Stage Android Stage Futurist Stage Nexus Amphitheater Linden Time Capsule Machinima Podism Observation Tower SL6B Birthday Cake The Last Rainmaker UFO Crash Site
About The Theme
We are LIVE from Dallier's Hope, 800 Light Years away we are spiraling through outer space on a Meteor disovered by Space Explorer Ghorman Dallier in 2499 while searching for new worlds to inhabit! Although we're too far away from the sun to see it and any flora has to be kept in an AEC (Artificial Environment Chamber.) we still know how to throw a party!
The future is open to all sorts of interpretation, and to encompass the future, we looked to the past. In the beginning of Second Life, pioneering residents looked over this vast, empty landscape that was full of potential and promise. Everything was new to everyone, the concept of virtual worlds, the way we would adapt to custom content, how we would use the tools provided to us and incorporate our own vision was all still yet to be discovered. It all began with an great open space, and the inspiration provided by the seemingly simple idea "Your World, Your Imagination."
Six years later that world is merely a memory as time has moved at warp speed with the advancements of technology and adaptability of the platform. A few hundred users quickly became over a million. It has become a staple in education and commerce on a global scale. Never could have those early residents of that vast open world predict how Second Life would evolve.
With that in mind, we took our Exhibitors far away from the green grasses and sandy beaches of their Second Life Grid and sent them into the stratosphere as the first colony of Dallier's Hope. A vast, open landscape waiting to be developed by the first new residents of the future of Virtual Worlds. What becomes of this great "Rock" remains entirely up to them, how they adapt and harness the power of their imagination to make something from next to nothing as they share their personal visions of what they believe the future holds.
Exhibitor Directory
Events Calendar
Event Blog
Read the Dallier's Hope Messenger for the latest news from "The Rock". http://dalliershope.wordpress.com/
Event Policies
Many thanks to Phaylen Fairchild, Poid Mahovlich, and the other Lindens and volunteers who put these event policies together. It's through our collaborative work that we set the foundation for future events to just get better and better.
Maturity Rating
In order to ensure a comfortable experience for every Resident, the whole of the event will be accessible to general audiences. The Second Life 6th Birthday Celebration takes place on the main Second Life Grid and is for Adults 18 years and older. The following guidelines are in effect, and are the same PG guidelines we followed last year:
"PG Areas are designated to be free from sexually explicit language or behavior, swearing and other forms of aggressive language, violent behavior and/or imagery, including horror. Gambling for Linden Dollars is also prohibited." This is taken from the Knowledgebase Article found here.
Linden Lab and the Resident Organizers reserve the right to determine when an edge case is no longer appropriate.
Exhibitors may provide landmarks to Mature regions, provided they are properly marked as Mature.
Exhibit Policies
No megaprims are allowed at Linden-Sponsored Events.
No sales or soliciting of donations- freebies are okay as are landmarks to external areas.
No hate-oriented material.
No copyright or trademark infringement (includes real life or virtual name brands, logos, sounds or graphics that aren't owned by exhibitor.)
Prim limits are according to plot size requested and will be enforced.
1 Exhibit per resident/group
Landmarks, Web content or Links provided must be relevant to the exhibit or exhibitor.
We expect every exhibitor and attendee to adhere to the standard Second Life Terms of Service.
Opt-in (clickable) notecard givers are acceptable. Notecard givers that spam an avatar upon arrival are NOT permitted.
Important Dates
May 6- Applications open
May 20- Applications closed
May 21- Applications review begins
June 3- Accepted Exhibitors notified (date revised!)
June 5- Building may begin (date revised!)
June 12- Applications re-opened
June 15- Applications re-closed
June 20- Wave one Exhibitors complete exhibition builds
June 21- Tech Rehearsal, Infrastructure builds completed
June 22- Wave 2 Exhibitors complete exhibition builds.
June 22- 11:59pm SLT, regions close for maintenance in preparation for opening ceremonies.
June 23- Gates open to the Public for the opening ceremonies at 10am SLT. Scripts and build disabled throughout estates for duration of ceremonies to discourage instances of lag and disruption. They will be turned back on after the opening speech.
June 29- Official closing ceremony
June 30- Final day of Entertainment
July 6- Gates close
Performer Information
If you would like to DJ at SL6b, please use this form to tell us about yourself and your availability! Live performers may IM Glimmer Silverstar for information.
Builder Information
Builder Policy
Zero Tolerance for Drama. The volunteer staff of Second Life 6th Birthday are here to help you with reasonable requests for assistance with your build. They are not being paid to be abused, called names, or manipulated for your personal ends. Please be courteous to these fellow residents who are giving their time for the community. Any builders habitually harassing staff will be removed from the event.
You will need to set all items to SECOND LIFE BIRTHDAY EXHIBITORS Group or they will auto return after 1 minute.
If you do not receive an invitation to the Second Life Birthday Exhibitors group in a timely fashion, please leave a message in the general SECOND LIFE BIRTHDAY group requesting help from an Exhibitor Assistant. The Exhibitor Assistants are here to help get you acclimated, as well as make sure you and your building team have invites.
Your Exhibitor Assistant will also remind you of the policies and protocols and inform you who your Region Coordinator is in the instance you need help with other, more elaborate issues. The Exhibitor Assistants will be able to answer all of your questions.
By building at SL6B you are agreeing to keep your displays PG. Of course, that means things like Nudity or violence are not acceptable. Linden Lab reserves the right to determine the limits of nudity or violence, and may ask you to adjust your entries accordingly.
Selling is prohibited, however, freebies are fine. Additionally, displays should have actual content, not just look like advertisements. This is a non-commercial zone intended to showcase the best ideas, solutions, craftsmanship and community that Second Life residents have to offer.
Donation Solicitations in any form be it verbally or by Kiosk are prohibited. While we appreciate the efforts residents make to inform, educate and encourage support of charitable causes, this Linden Sponsored Event cannot be used as a vehicle for the procurement of donations for charity. Allowance of such can be misconstrued as a public endorsement and involves a bunch of legalese. While within your exhibit you may provide external links and landmarks to locations that provide an avenue for donations to be made, they may not be made directly from the event fairgrounds in any respect. It is impossible for us to verify the legitimacy of every organization participating.
Megaprims are prohibited at Linden-Sponsored events.
SECOND LIFE BIRTHDAY & SECOND LIFE BIRTHDAY EXHIBITORS are groups designed solely for the purpose of streamlining information between staff and the community. In either of those groups, questions can be asked, group invitations may be requested by exhibitors for their team, but idle chat is discouraged. For exhibitors who would like to discuss their exhibits, speak with other exhibitors, share ideas and tips or play games (Yes they even play games - currently the riddle is discerning the meaning of Dallier's Hope!) you can join SL6B Exhibitors if you don't mind general discussion. Remember that is a community channel and discussion should be expected if you join!
If you have needs that an Exhibitor Assistant cannot take care of - such as terraform issues or land options customization, please refer to your Sim Coordinator for further assistance with such tasks. A list of Sim Coordinators are as follows:
TOXIC MENGES Aeon Quantum Virtuocity Cryo
TRINITY SERPENTINE Titan Void Uplink Velocity
POID MAHOVLICH Atomic Dimension Polaris Callisto
KIT MAITLAND Nano Nucleus Hologram Portal
JEWELKICKER SPEARMANN Futurist Android
Each plot allows you the standard allotment of prims. Please don't exceed your allotment under any circumstances!
If you requested a booth space, a booth has been provided for you. If it does not meet your needs, you may have it deleted, but please respect the view of your neighbors when designing your own booths.
Your display may include a notecard and LM to another location. You may not sell your work here.
You must be a member of the Second Life Birthday Exhibitors group in order to access The Rock. An effort has been made to group all exhibits by content type. Exhibitor Assistants will have a list available to direct you to your assigned spaces. DO NOT CONTACT YOUR SIM COORDINATOR FOR A GROUP INVITE! They are extremely busy working on other things in an effort to ensure you have the most positive experience possible.
If you cannot use your space, please IM the group and request help from a Exhibitor Assistant. The Exhibitor Assistant will provide this information to your sim Coordinator.
Exhibitors have 7 days to claim their land by putting a prim on. June 11th is the last day to claim your land. We will give your land to anther exhibitor on June 12th, if you have not claimed it.
Please do not ask for an invitation to the group if you are not an exhibitor or assisting an exhibitor. The assistants will be screening all request against a database of applicant names. If you have not been referred by a current exhibitor or have not placed an application that has been received an acceptance letter via email or in-world notecard, you will not be granted access.
Event Staff
If you are thinking of volunteering to work at SL6B, read this: The Second Life Birthday Production Team will be a no-drama zone. It's goal-oriented, get-'er-done work, all accomplished behind the scenes. While it's very fun and satisfying, it is no place for a big ego or someone who needs to be the center of attention or in control. It's collaborative. "Team" is a big word around here; be prepared to work with others and be good at reaching a goal, even if it's not the road you might have chosen if working alone!
Administration, Project Management
Linden Lab Liaison, Dusty Linden
Phaylen Fairchild
Estate/Build Out/Exhibits
Event Design, Phaylen Fairchild
Lead Architect, Prad Prathivi
Lead Scripter, Brunswick Warburten
Hunt Scripter, Gypsy Paz
Estate Comms, Buckaroo Mu
Sim Coordinators

Toxic Menges
Poid Mahovlich
Kit Maitland
Trinity Serpentine

GUS(Galaxies United Security Bot) Builder
GUS (Galazies United Securities Bot) Programmer
Exhibitor Orientation

Kitty Tandino
Ginger Marseille
APinkSwan Beauchamp
Odessa Dagostino
Diana Renoir
CallieDel Boa
Joslyn Bonetto
Menolly Riederer
Shi Streeter
Moira Seelowe
Kelindra Talamasca

Official Baker
Infrastructure Builders

Phaylen Fairchild
Allatu Augustus
Poid Mahovlich

Infrastructure Contributors

Kazuhiro Aridian
GutterBlood Spoonhammer
Mantis Oh
Scope Cleaver
Cube Republic
Hern Worsley
Brunswick Warburten
Spiral Walcher
Blazed Undercity

Moderators

Poid Mahovlich
Doctor Gascoigne
Marianne Levasseur
Rails Bailey
Skye Galileo
Arian Writer
Drakon Cortes
Shawn Masters
Jezzie McCellan
Chaos Mohr
Toxic Menges
Entertainment
Live Performance Stage, Glimmer Silverstar
DJ Stages, Jewelkicker Spearmann
Streams provided by nEostreams

Brad Ohtobide & Chastity Saintlouis

Stage Managers

Blake Hammerer
Karlo Antonelli
Miah Milena
April McCoy
Selena Denja
Tim Gagliano
Harlee Lane
Publicity
Baz Ceawlin
Katier Reitveld
Catherine Linden
Blondin Linden
Community Services
Event Group
If you would like to keep informed, please join the group "Second Life Birthday" in-world. That will be our primary means of internal communication with the community. Externally, please keep watching the blog for news updates, and this wiki as an information repository.
Announcing SL6B, June 23 — June 29, 2009
On June 23, 2009, Second Life turns 6 years old. Hey! This is your second half-decade! Now you're *so* much more sophisticated than 5, but still hovering near the oven, anxious to devour the cake, and wondering what 6 has in store for you. Or, for that matter, what about 7? 10? 15? Where do the years go, anyway?
Since you're never content with things as they are, the event this year is a challenge to Residents: show how you intend to make things in 5, 10 or 100 years. The Birthday theme this year is The Future of Virtual Worlds and we're betting you have some pretty awesome visions to share of the future you're building here. How will Virtual Worlds work? How will they look? How will they be part of everyday life? How will we learn, socialize and evolve in them? How will they affect your beliefs, and be affected by your actions?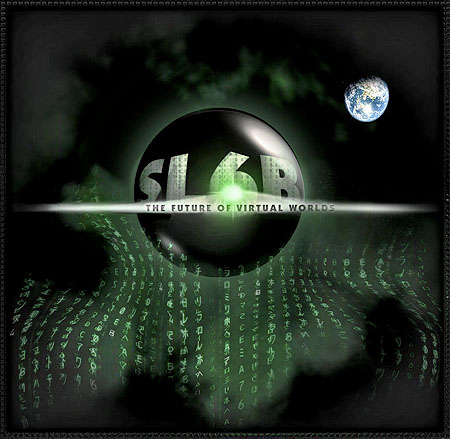 Once again, Linden Lab has set aside 20 regions for the Birthday celebration, and Residents are building their particular future to share with you. The event infrastructure is nearly complete, and it looks great. It's a little dark, and a little shiny. It's a little inspiring, and a little dystopian. It's decidedly 3- dimensional. Think in light. Think in concept. Look up. Look under. Look in and listen closely.
Applications to build an exhibit are now closed. We will be reviewing all submitted applications next, and hope to have announcements going out to accepted exhibitors by June 1. Exhibitors will have a full 2 or 3 weeks on-site to build. The event will open June 23, and officially run for a week, (though we will keep the gates open for a week beyond that so that plenty of people can come by for a visit).
Watching Philip's Speech
Philip Linden will be opening the Second Life 6th Birthday celebration June 23 at 10 am SLT with a speech from the SL6B main stage. There is limited seating available, so if you are unable to access the stage you have a couple other options.
To watch on the web, head your browser to http://www.treet.tv/live.
You can also get a free Treet TV for your home from XStreet, or visit Treet's Northpoint Studio in Second Life and pick one up there. Deed the TV to your land and away you go. The SL6B opening remarks will be on the Live channel.
There will also be some Treet TV monitors set up in SL6B Android and SL6B Futurist for your watching pleasure. Grab some coffee and donuts, and bring enough for the rest of the crowd!
SL6B Main Stage:
http://slurl.com/secondlife/SL6B%20Uplink/34/228/46
http://slurl.com/secondlife/SL6B%20Void/231/224/46
http://slurl.com/secondlife/SL6B%20Hologram/29/27/46
Historical Links