Second Life Road Network Directory
Jump to navigation
Jump to search
The Second Life Transport Network
The land creation team sets aside "road" parcels in many new Mainland regions; it's the duty of the LDPW to add content to those parcels. Not only roads: walking trails, railways, monorails, bridges, ferryboats, sailing routes, etc.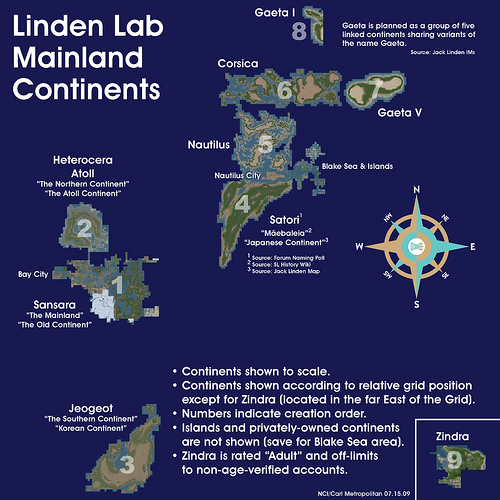 (Image source, SL freely distributed map, NCI/Carl Metropolitan 2009)

The following directory contains route maps and lists of rez zones arranged and divided by continent for ease of reference and exploration.
Sansara
The original core SL "Mainland" continent, also incorporating the Snowlands, improvements are now being made to these historic roads. New routes will be described here as they are added.
Heterocera
This continent, commonly known as Atoll, connects with Sansara and has seen intensive roadbuilding activity, meshing in with the SLRR
Jeogeot
An extensive network of roads skirts the exterior of this continent with numerous inland roads completing the network
Satori
The 'Japanese' Continent, also know as Maebaleia
Nautilus
Not to be confused with the nearby island city of Nautilus which rose from the sea, this is a continent lying to the north of Satori
Corsica
This continent lies further to the north of Nautilus
Gaeta V
A small continent to the east of Corsica
Gaeta I
A small incomplete continent to the north of Corsica
Zindra
The "Adult" Continent
TSL continent
The landmass imported from TSL, now known as Sharp Continent, situated to the south east of Satori, which has recently undergone a major overhaul of it's highway system.
Premium Continents
These are 4 continents that host the premium homes.
Private Continents
Road efficiency
The following is a classification of all continents, based on infrastructure efficiency index. This index is a number calculated on the following factors: length of road/railway network, types of roads (highway, classic, path, off-road), types of railway (classic, special, tram) reported to continent size, restrictions (script, object entry), presence of automated transportation, sea access and network fragmentation. The index was inserted by Second Life Geography team and not by Linden Lab, so it is not something official. The reason for this index is to prove the strong link between infrastructure and population density.
Mainland continents:
Heterocera:            3.920
Sharp Continent:       2.005
Zindra:                1.365
Jeogeot:               1.239
Sansara:               0.896
Gaeta 5:               0.481
Satori:                0.415
Nautilus:              0.332
Corsica:               0.382
Gaeta 1:               0.202
Premium East:          0.170
Premium South 2:       0.148
Premium South 3:       0.147
Premium South 1:       0.008

Private continents:
Shopping Continent:    11.60
Estate Continent:      4.198
Caledon - Winterfel:   3.894
Mar Lesbiana:          2.456
Blake Sea:             1.530
IGBC Continent:        0.149

For Eden, Europe, Fairchang, Seductive and Uhre, road efficiency index is 0 or almost 0.
Wild West has very short and unconnected roads (trails and paths), but access is possible almost over any parcel. Based on this, road efficiency index was fixed at round value of 3.000, even if, based on its roads, it should be below 1.
For more information about the continents and links to each continent's page, as they were in spring 2014, check List Of Continents or the main Geographic page, Second Life Geography.
For Waterways, see Waterway Efficiency Index. Also, for railways, see Railway efficiency index.
---
Other Internal Links:
---
External Links:
The following links are to maps updated regularly on behalf of the Protected Route Interest Group. All maps are open source and permission to edit and re-distribute is granted, on the condition that they are distributed free thereafter. The sources for these maps are archive wiki pages (Linden_Department_of_Public_Works_Roads), route parcel names, the LDPW blog, support tickets and information gathered from the LDPW open office meetings.

Sansara Map sansara.protected-routes.com
Heterocera Atoll Map heterocera.protected-routes.com
Jeogeot Map jeogeot.protected-routes.com
Satori Map satori.protected-routes.com (amended Linden/Mole map)
Nautilus Map nautilus.protected-routes.com
Corsica Map corsica.protected-routes.com
Zindra Map zindra.protected-routes.com
TSL Network Map tsl.protected-routes.com
Snowlands Map snowlands.protected-routes.com (details the off-road routes around Snowlands on Sansara)

No further amendments were required for the Gaeta V map. The P.R.I.G. sends updated versions in-world when available, the above sub-domains are always current. Further information available at Protected-Routes.com