User:Anaimfinity Resident
Jump to navigation
Jump to search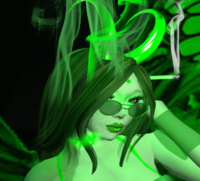 Payment Info
Payment info used
Biography
I have a piece of land in Achemon, 'House Of Freedom' close to the railway. Homeless people, feel free to come, rezz and play on the ground or in the sky platforms.
Also I have the 'Be Happy' shop on marketplace.
I like to make people happy. If you need help, feel free to contact me.
For some males: I am not for your enterainment. You should be castrated.
Interests
Freedom Green Railways Smoking
Homepage
not having one, yet
Second Life Birthdate
July 08, 2012
Real World Biography
I am a Circassian (from the Northern Caucasus). I am a woman, age 30, married. I work on the railway.
If you want more info, ask me.
Here, I am just a virtual girl in a virtual world.
Rays of green light. Bright and proud to be a Circassian [1]