User:Marcello Schaller
Jump to navigation
Jump to search
Marcello Schaller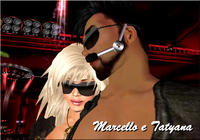 ---
PRESENTATION
This is a world full of opportunity and challenges. I am here to help new and old residents by sharing ideas and such. I can speak ENGLISH,BRAZILIAN PORTUGUESE,ITALIAN and SPANISH.
My aim is to contribute to SL environment in many aspects. I understand how important it is to explore SL, make friends,and have fun. Those are some of the reasons that bring me here.
I am also so much pleased that I have found a special woman, now my wife in real and virtual worlds. She is Tatyana Schaller who has being so much supportive along these years in helping me understand life in a different point of view through her positive words, patience and careness. I also thank her for being so much helpful with the language stuff.
Here is a couple of things I have learned from her while living in SL, and I wish to share:
Enjoy making things & sharing with friends;
Be a very easy going person;
If anything's worth doing, it's worth doing right;
Believe that everyone needs to be able to enjoy the sl, so never be selfish;
See other's happiness brings happiness to all;
Remember: There's always a RL feeling on the other end;
You can find us in world, what will be a pleasure to meet you and help you anytime.
---
Languages
ENGLISH
BRAZILIAN PORTUGUESE / PORTUGUÊS BRASILEIRO
ITALIAN / ITALIANO
SPANISH / ESPAÑOL
---
--Marcello Schaller 17:14, 26 December 2008 (UTC)