User:Wladjmir Panacek
Jump to navigation
Jump to search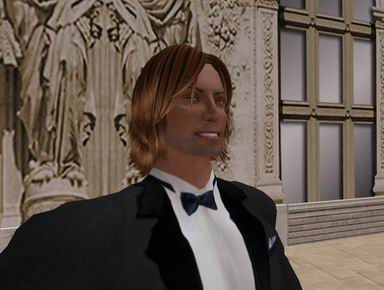 Sono Wladjmir Panacek, residente italiano.

---
Faccio parte del programma di Volontariato di Second Life.
La mia missione è di Aiutare altri Volontari o nuovi residenti, come anche migliorare Second Life in quanto Mentor.
Come Mentor Coach posso aiutare a eseguire costruzioni, settare script, creare costruzioni complesse
in qualità di Mentor Scribe posso aiutarti a compilare la tua pagina web o creare applicazioni web.
puoi trovarmi sulla mia land MEDITERRANEO
Parlo Italiano e Inglese, Francese, un poco di Spagnolo.
Assieme all'amico Contironco Troncon Mi occupo di costruzioni di Land e relative ambientazioni, costruzioni di arredamente e apparecchi Hi FI.
Ho costruito un edificio adibito Cinema Teatro Auditorium che riproduce il conservatorio Giuseppe Verdi
perfettamente funzionante con oltre 190 posti a sedere con palchi e corridoi e una propria programmazione di opere liriche, film in lingua italiana e altri capolavori classici.
Recentemente ho prodotto un nuovo teatro ITALIA, molto curato negli arredi e nell'aspetto esteriore
(visita in SL a Tetro Verdi)
Posso aiutarti a capire meglio lo 'stile italiano' e consigliarti nel costruire mobili e appartamenti, anche di lusso.
Nella mia land puoi trovare uno shop a marchio TXC Furinture dove potrai vedere alcune realizzazioni di arredamenti.
---
Sono pratico di costruzioni di edifici di varie dimensioni; il mio hobby principale è internet.
in Rl sono imprenditore, Presidente e Amministratore di una Società, un'azienda che produce arredamenti in marmo con esportazioni in tutto il mondo. Oxolite
I work and live in the central Italy. But often i am a World Business Traveler. I have been in-world since July of 2007 and in that time have learned a lot and made some incredible friendships. In addition to a large Land buying and develop, selling and consulting business here on Second Life.
Conoscenze Tecniche
Linguaggi: CSS, HTML, ASP, PHP (giusto quello che serve)
Piattaforme: Windows - Linux - Unix
SL Tools Software: Photoshop (pratico di foto ritocco), Office ad un ottimo livello (il resto lo sto imparando)
Certs: Economia e commercio ( Firenze 1983)
Speaking Languages
Office Hours
Wladjmir Panacek
7/7 @ send me an IM i will confirm you an appointment.
Tutorial - Building (only Italian/English/French Language)