Ko Microcontinent
Jump to navigation
Jump to search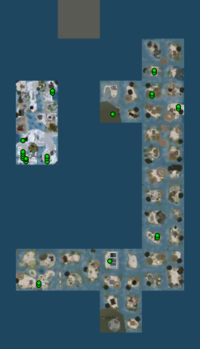 Ko is a Microcontinent placed in Grid Sector F10, at Coordinates 624-627/1034-1040, inside Far West Ocean. Its name is not original, it comes from the fact that many sims share the name Ko. Also, it has the temporary name A033.
Geography
This microcontinent is formed of 11 sims (and there are other 2 sims at some distance that looks the same). It is not compact. Altitude is very low.
All sims are made to form a tropical beach paradise. Each one is composed of 4 islands (near the corners) with a lot of Water between them. Vegetation is also tropical. Ground texture is made to look like white sand. This is a good place for sailing and relaxing in the sun. The existing buildings are modern homes for the residents that stay here.
Land Status
There is a single estate owning land. Protected Land includes water and is more then 50% of land surface.
See Also
List Of Microcontinents And Sim Clusters