SL5B/Locations of Interest
Jump to navigation
Jump to search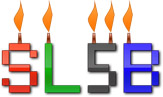 Here's a quick guide of Places to Visit at SL5B. Taken from a Forum Thread on the Second Life Forums which can be found Here. Want your exhibit listed? Post the name, SLurl and Details onto that thread.
Visit the SL5B Wiki for more information. For a full list of Plots/Parcels on the SL5B Estate Click Here.
Click here for the SLUrl to the SL5B Main Stage (and welcome area) and the other Live Performance Stages.
| Exhibit Name | Exhibit Description | SL5B Sim | SLUrl | Group |
| --- | --- | --- | --- | --- |
| Message in a Bottle | By Dizzy Banjo, Lillie Yifu & residents of SL | SL5B Copy | Click Here | none |
| Greenies Exhibit | The Greenies Plot | SL5B Ruthed | Click Here | Greenies |
| Down the Rabbit Hole | By LittleToe Bartlett & Pavig Lok | SL5B Render | Click Here | none |
| Flying Tribe Sculpties | Showcase | SL5B Sculpty | Click Here | none |
| Kids5B Exhibit | Gateway to the offsite Kids5B event | SL5B Move | Click Here | Kids5B |
| Marianne McCann: A Second Childhood | Photography exhibit under a kinetic sculpture | SL5B Move | Click Here | none |
| Childhood Dreams | Master work directed by Loki Eliot; a pop-up storybook inside a geodesic dome | SL5B move | Click Here | Second Life Children |
| Robin Sojourner: Creativity in Second Life | Educational Exhibit on content creation in Second Life | SL5B Dwell | Click Here | none |
| Youthful Creativity and Roleplay | Ceera and Reisuki's sandcastle under seige by adult worries | SL5B Copy | Click Here | none |
| Caledon | Steampunk Victorian Caledon - a Second Life micronation! | Second Life Birthday | Click Here | Caledon |
| Linden Lab Exhibit | Showcase | Second Life Birthday | Click Here | Linden Lab |
| Eshi Otawara's Phoenix dress | Click the center to wear it! | SL5B Delegoose | Click Here | none |
| Undiscovered Florida | none | SL5B Dwell | Click Here | none |
| bladyblue Bommerang : CLUB SCHOOL | International Appeal of Virtual DJing | SL5B Dwell | Click Here | CLUB SCHOOL |
| Camp Duck Itch | Campground for Second Life's virtual Boy Scouts | SL5B Move | Click Here | Boy Scouts of Second Life |
| Clipeze Jazz Lounge | Dance to Martini in the Morning radio stream | SL5B Dwell | Click Here | Clipeze inSL |
| Virtual Imagination | Art and Photography | SL5B Sculpty | Click Here | none |
| Isle of Lesbos | Showcase | SL5B Physical | Click Here | none |
| Isle of Wyrms Exhibit | Here Be Dragons | SL5B Copy | Click Here | Isle of Wyrms |
| Norjo/ SoNiC SuBWaY | Representing the Electronic DJ Scene | SL5B Rezzed | Click Here | none |
| Second Life Music Community | Music | SL5B Rezzed | Click Here | none |
| Overpopulation | PopulationAlert.org | SL5B Stretch | Click Here | none |
| Visualizing ODEs | Mathematics | SL5B Rotate | Click Here | none |
| The Photo Institute | none | SL5B Rotate | Click Here | none |
| Brooklyn is Watching | none | SL5B Edit | Click Here | none |
| Graphics art Display | Art | SL5B Rebake | Click Here | none |
| A replica of the Church of Saint Donatus, Zadar, Croatia | none | SL5B Render | Click Here | none |
| Second Life Paganism | A celebration | SL5B Rebake | Click Here | none |
| The Prims Abuser | Showcase | SL5B Flexi | Click Here | none |
| ZA Motors & ZA Marine | Low prim high detail sculpted object exhibition | SL5B Edit | Click Here | ZA Marine |
| Take a Walk on the Tiny Side! | Tinies! : D | SL5B Ruthed | Click Here | none |
| Want to be On YouTube? | Recording the Visitors! : D | SL5B Rebake | Click Here | none |
| Psoulocybe | Art In A Digital World | SL5B Render | Click Here | none |
| "Through the Looking Glass" | A MUST see | SL5B Stretch | Click Here | Scarlet Creative |
| SL Bug Tower | Free copyable 300m structure - full perms! | SL5B Stretch | Click Here | Maxx Monde |
| Second Life Portuguese Speaking Mentor Group | Education, Language & Volunteering | SL5B Dwell | Click Here | none |