Jötúnn (ship)
Jump to navigation
Jump to search
M/S Jötunn (Giant)

The M/S Jötúnn was a large build of a passenger vessel located in the Siphonios SIM of the New Pride Land continent. She was the flagship of MASONlines, an Icelandic shipping company which still operates a scheduled ferry service around the continent. She was stored in December of 2008 when the cost of openspace SIMs made maintaining her cost prohibitive.
Walking Tour
Foyer Deck/Inngangurþilar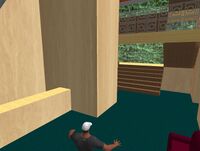 Boarding of the M/S Jötúnn is via a portal on the starboard side of the lowest deck, which gives access to a lobby that forms the lowest level of an atrium that extends upwards through the ship. A working lift connects all five decks.
Extending fore and aft of the lobby is a lateral corridor lined with staterooms.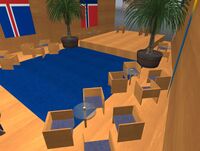 At the bow is the Saga Ballroom, which contains seating and a large stage, as well as a majestic Grand Staircase connecting the Ballroom with the other public spaces on Promenade Deck.
Shelter Deck/Skjólþilfar
The majority of this deck is given to passenger staterooms, with a large Owners suite aft.
Promenade Deck/Aðalþilfar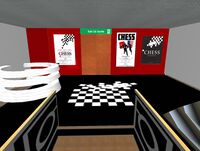 The Promenade Deck contains a suite of public spaces, two of which were not completed at the time she was derezzed. Forward at the top of the Grand Staircase is the Chess Bar, themed after the musical play which is popular in Scandinavia.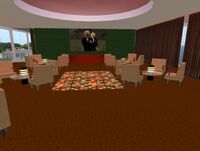 Amidships is the Mission Lounge, a quiet space for relaxation named for Boots and Shawn Mission, beloved founders of Boots Beach and the Beach Bums social group, one of the largest gay organizations in Second Life. Planned for other spaces are a traditional pub with working games and the Ís (Ice) Bar which would feature scenes from the Icelandic landscape.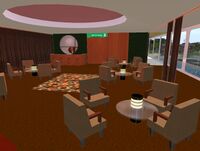 A glass enclosed walkway rings these rooms, allowing private events whilst others can circulate around the ship. The Mission Lounge can be connected to or separated from the Promenade with curtained dividers.
Right forward on Promenade Deck is the ship´s foredeck with a large swimming pool. Anyone caught standing at the forepeak and screaming "I´m King of the World!" will be mysteriously lost overboard!
Boat Deck/Björgunarbáturþilfar
Broad decks for walking line both sides at this level. Forward is the small Observation Bar with a view over the bows. Aft is a gym and the Oasis Pool area. Amidships are small rooms to be used as additional staterooms or offices.
Sun Deck/Solarþilfar
The top of the house! A large winter garden with plants and a working fountain provides a tranquil respite. The rest of this deck is open space for sunning or games.
--Mason Fredriksson 17:44, 24 April 2009 (UTC)