TnT
Jump to navigation
Jump to search
Closed! Hail to the 'Triumvirate'
The Travel and Tourism Agency of the Gay Archipelago

As the Gay Archipelago (GA for short) continues to grow, there are thousands of residents visiting our region weekly. We do our best to provide areas within the GA that are unique, engaging and entertaining. To make the GA more attractive and assist in promoting areas within our community, we have established a focal point of sorts, called the Travel & Tourism Agency (T&T for short).

We hope newcomers and visiting residents will use this new resource to see what the GA has to offer. We know residents are curious to visit and experience the Travel & Tourism Agency, however, we are currently building, decorating and scripting the location. Soon we will invite sim owners and GA officers to visit us and have a tour of our wonderful venue.
For a video about the Travel & Tourism Agency, please check out our video hot off the cutting room floor: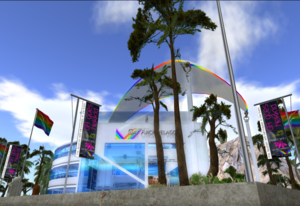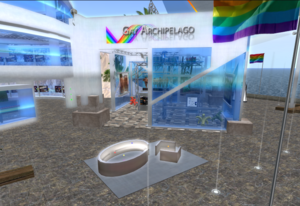 The Structure of the Building / Machinima
The T&T has two structures within its building.

The square entrance building is only for GA and the GA projects, such as GA wide events, the
Pride gateway, the Sandbox or other GA-wide community service activities. The other structure
consists of a multi-level oval which will be for all sims located within the GA and can include
locations like clubs or special interest groups. We feel it is necessary to provide seperate
areas so that we don't mix all the various information.
This is why we have decided to make categories:
GA specials, landscapes or buildings, Shops and malls
at second floor nature, arts & culture
at 3rd floor are clubs & mature interest

This service to promote your business is FREE but a tipjar will be onsite for those who have Linden dollars buring holes in their pockets. We have costs and a little help is welcome. The T&T is doing more. The next issue of our Gay Archipelago Guide will soon be published and we also have a weekly event book. If extra promotion is needed, we can assist by adding posters and articles in both. We are not a totally for-profit commercial venture, so for these advertisements, we are always appreciative of donations to help defray our costs. Certain community services are even exempt from any costs.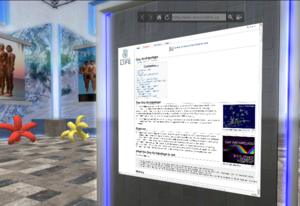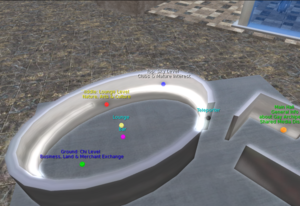 What YOU as a Pro can do in advance!
Make a folder with your logo or promotion picture (4:3), be sure you add a landmark, notecard
ALL FULL PERMS! and perhaps  a freebee which should be at least copy & trans. 
The T&T is here to help and promote the Gay Archipelago region, but our small team cannot do all
the work.  We do not have the time to make promotional items, translate text, or craft notecards.
And once again, Texture (4:3), Notecard, Landmark, ALL FULL PERMS. Prefabricated Prims, displays,
givers and similar are only filling up our trashcans but do not result in an appearance in the Tnt!
The Folder has to be sent to Treasure Republic.

Random T&T Impressions here
The T&T has chosen the slogan: T&T connecting dreams. May all your dreams come true, we can be a little help for you.
Feel free to contact us if further information is needed.
Othon Weiland | Megotta Zuta | Rasmus Pennell.