User:Trinity Dechou
Jump to navigation
Jump to search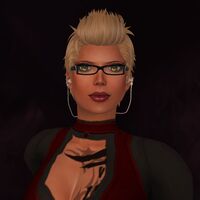 Resident, explorer, photographer and blogger.
I co-own the Kernow sim with my partner Aimee Trescothick. A place for anyone to come and explore our galleries, catch up on some fishing, partake of some free-fall skydiving and appreciate some quiet time in the peace of our meadows. We have, hopefully, created a welcoming sim for anyone to enjoy.
Experiences
Since joining Second Life in 2006 I have experiences in many aspects of the world, as a club admin, estate manager and writer for an independent magazine. These days I can be found wandering looking for interesting places and chatting to the exciting people that help make Second Life what it is.
Extra! Extra!
In my spare time I enjoy taking pictures of landscapes and even people. I enjoy visiting places with an aspiration to get an alternative view on a scene. I can often be found tweaking my camera angles and WindLight settings at some of the most gorgeous areas Second Life has to offer.
I enjoy building, however with new commitments I find I rarely have time to build.
Contact Me email