Babbage Railway
Jump to navigation
Jump to search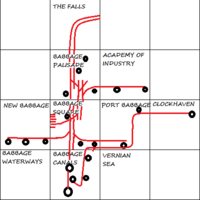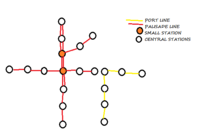 Babbage Railway is a transportation system available throughout Babbage Microcontinent. It is highly developed and provides access to 9 of the 10 sims that form the microcontinent.
Tracks
Rail is not as wide as the Heterocera railways and it doesn't use the same 'Guide' system for trains. In fact, it is more a tram line then a railway. In many places, rail is suspended. The bridges are not modern, they are made with steampunk arhitecture and iluminated with gas lights. There are also a lot of smaller bridges over water channels and even a long metalic bridge in Western industrial areas. In many places, there are also tunnels. These tunnels are not built to pass through hills, but to pass through buildings. Also, there is a place where the rail goes through a destroyed building. Many times, rails are built near streats.
Stations are frequent and at small distances one to the next one. Not all stations have buildings, the vast majority have only a 'tram stop' sign.
Rail structure
The railway is made of two independent sectors: Palisade Line and Port Line. Palisade Line is very complex and it includes 3 smaller branches. The central part is a double rail. There are two large stations in the center of the rail system. This line has two depots. Port Line is shorter, simple and with no second branches, with a depot. Both lines are very close in a point, but tracks are not in contact.
Transportation
A classic Heterocera train cannot use these tracks (cannot find the 'Guide' and is too wide for the tunnels). Even so, almost all rail can be considered a rezz zone. Objects and vehicles can be rezzed anywhere.
Automated transportation is present. There are trams that travel along all branches. They have a very low speed, unlike the Heterocera automated trains, close to the speed an avatar walks. You don't need to wait much for a tram to come.
Technical Data
The numbers below are distance measurements in km. Estimated maximum error is 5%.
Palisade main line:
Babbage Canals:            0.00
Babbage Square Cross:      0.34
Babbage Palisade Station:  0.51
Babbage Palisade North:    0.69
The Fells:                 1.07

Palisade South East line:
Babbage Square:            0.00
Babbage Square East:       0.12
Port Babbage:              0.25

Palisade South West Line:
Babbage Square:            0.00
New Babbage East:          0.09
New Babbage:               0.15
New Babbage West:          0.20

Palisade North East line:
Babbage Palisade Station:  0.00
Babbage Palisade East:     0.15
Academy Of Industry:       0.36
Academy East:              0.48

Port Line (not connected with Palisade rail system):
Clockhaven:                0.00
Port Babbage East:         0.18
Port Babbage South:        0.41
Babbage Square:            0.59
Babbage Canals:            0.70
Babbage Canals End:        0.92

Total connected railway: 2.00
Total unconnected railway: 0.92
Total railway network: 2.92 km.
See Also