French Viewer Localization Project
Jump to navigation
Jump to search
2009-June-30: We have finished all submissions for Viewer 1.23. The next time we make changes/updates for translations in the viewer will be August 2009.
BUT, we are still keeping track of any bad translations or language bugs that you find!

Please report any translation bugs of the viewer in this document.
For more information , please contact: Ramzi Linden
| | | |
| --- | --- | --- |
| This Project |   |   |
This may be the project for you if you are a Resident who:
whose native language is French,
you know English well
and would like to help in localization efforts!
In Viewer 1.23.4, we published an improved and completely revised translation into French. If you would like to join the project for the next version of the Viewer, please read the information below and then sign up! You will be contacted when you are given access to the project. There will be a lot of teamwork among translators and working with our leader of the French localization, Noelle Linden. Feel free to use the contact email below for any questions too.
| | | |
| --- | --- | --- |
| Tips |   |   |
Familiarize yourself with the glossary first. It is quite different from the one you're used to and many terms have changed. Please follow what's in it. If you have suggestions or things you really disagree with, do not incorporate them in your translations. Rather, send me a note in SL or an e-mail at danica@lindenlab.com
You'll notice that terms in the glossary do not start with a capital letter. It is done on purpose as it makes things easier for working with translation tools.
In the French SL version, all UI elements (menu, buttons...) will start with a cap letter (the first word only). Example: Pour voler, cliquez sur le bouton Voler. Pour parler, cliquez sur Dire.
The attached files are prepared to be used with a translation memory tool (we use Trados). The format is rtf. The text in light grey is not translatable, only the text in back should be translated. The variables (red content into brackets) shouldn't be translated or messed with.
A Few French Specifics:
Replace US quotes (', (',) with French quotes (« texte en français ») with a non breaking space between the text and the quote. Also use a non breaking space before colons :
English: Your balance is: L$ 1000
French: Votre solde est de : 1000 $L
In English, UI elements often use caps, but in French, only the first world of the UI will be capitalized:
English: Create Landmark Here
French: Créer un repère ici
In English, there is a double space after a period. In French, a single space will be used.
Example.
English: Welcome to Second Life. Please login.
French: Bienvenue sur Second Life. Veuillez vous connecter.
Finally, whenever you see long, unclear sentences in English, try to make the French simpler and clearer. Convey the meaning, but not the poor style...
| | | |
| --- | --- | --- |
| What To Do |   |   |
1. Log into Pjira with your Second Life name and password. If you are reading this prior to signing up for the project: In order for you to be added to the access list for this Pjira project you need to have signed into Pjira at least once. Please remember to do that prior to signing up for the project:
Sign up for the project HERE
You will also need to agree to the Terms and Conditions located HERE during the sign up process.
2. Once you are signed up for the project, and are notified that you have been added, you can CLICK THIS LINK TO SEE AVAILABLE SUBTASKS in the Community Translations Project in Pjira.
3. Click the subtask link of the set of strings you would like to translate.
4. On the left side of the page under "Available Workflow Actions" you will see Assign this issue > Click on to me. Now that subtask is in your name.

5. On the left side of the page where it says Translation in Progress" - Click that link. You will see the Status at the top change to: Translation in Progress
6. Near the top part of the subtask page you will see an attachment. This is the English string document available for translation. Download this attachment by clicking the download link.
7. Text for translation will be available to you in .rtf files. Strings that need translation will be well highlighted and hard to miss (the English text which needs translation will be in black font, while the markups and old strings will be in gray font).
Here is a sample of a string
		<delta id="forgot_password_text">

			<p1>

				Forgot your name or password?

			</p1>
		</delta>

	</file>

	<file name="floater_hud.xml">

		<delta id=".[title]">

You guessed it: you will need to input your translation between <p1> and above </p1> and the only translatable text is: "Forgot your name or password?"
8. Please, translate inside the .rtf file. Please open the file in MS Word. Also note that if you save it as .txt file, you will lose the formatting and it will be infinitely harder to do it. (you'll be more prone to make a mistake). Please, don't do it! :)
9. Please, DO NOT touch the markup (xml) language. When you are finished with translation, make sure to save the file with the same name but add FR at the end. Before attaching it to the JIRA ticket, you may want to zip it (JIRA is sometimes known to corrupt high ascii encodings).
10. Please reference the French glossary (located on this page) while working on your translation.
11. Once you have translated the strings, attach the translation to your subtask click on Attach File to this issue link on the left side of the page. Follow the onscreen directions to upload your completed translation. The last thing you need to do is change the status from "Translation in Progress" to "Translated." (Remember: status changes are made on the left side of the page under "Available Workflow Actions" click the "Translated" link).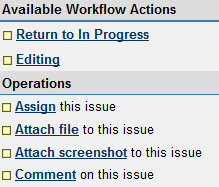 12. Subtask set to "Translated" will be a signal to another translator to come in and edit! Editor needs to Click the Workflow Action - Editing. Then, download the translation and the English original text and make edits to the translation.
13. What to look for when you are editing: precision of the translation; terminology selection particularly as it needs to be matched to the translations in the client and any issues with moved xml markings.
14. After making edits to the translation, the editor will upload the edited translation to the PJIRA subtask, click on Edited and leave a comment on the subtask that reads: "Edits Done." This comment should include any pertinent information, if applicable. Please, do not remove the original translation attachment.
15. After our quick QA, your translation subtask status will change to Published and you will see your translation live in one of the upcoming RC's or Public Nightly! :)

You are done and have helped in the Second Life localization process! Thank You! Feel free to take another subtask and start the process again.
| | | |
| --- | --- | --- |
| Questions |   |   |
If you have questions or need help on this project please send an email to: ctproject@lists.secondlife.com
Please include the tag [FRENCH] in the subject line of the email