Torley island/Was
Jump to navigation
Jump to search
Stuff that was Here, but no longer is. Hence, Was.
2009-04-11
Here's soundtrack
The enchanting piano music you hear on Here was composed by Torley too. Featured tunes:
All this can be downloaded entirely for free and used in your own creations — please let Torley know if you do something awesome with them.
In addition, the music stream — http://snurl.com/torleyradio which you can use on your land parcels — is provided by MediaMaster, which let you upload MP3s and play 'em inworld.
2009-02-11
Video trailer & tour
OMG EPIC!!!! <videoflash>zHfc9-2k_to</videoflash>
And what would video tutorials guru Torley be without an animated tour of Here? Check it out:
<videoflash>4y3-05RWPvI</videoflash>
Hotspots on Here
Click any of these names to teleport in Second Life:
The BIG screen
You can't miss it. Shows a featured Video Tutorial.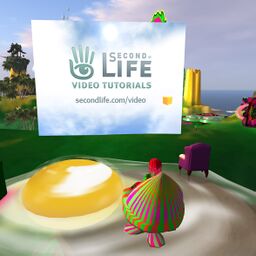 Video Tutorial kiosks
You can find a number of these spread around Here. They're usually in-context to provide a richer experience: for example, sitting tutorial near some poseballs you can try. The kiosks look like this: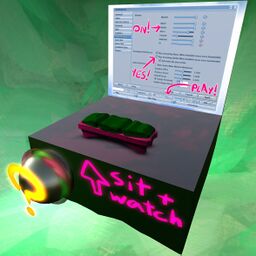 Where you'll start on Here if you didn't pick another destination. Yup, it's a reference to ye olde newbie corral. Pick up your free Torley Textures and other goodies!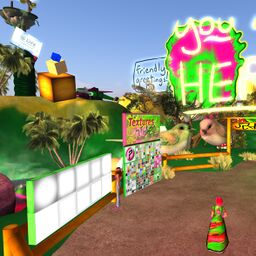 I'd be delighted to chat with you in-avatar! See my office hour times.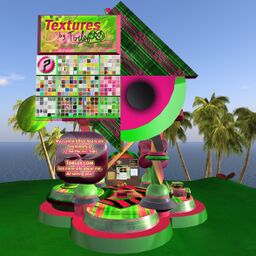 One of the most fun parts of owning land, especially an island, is reshaping it — feel free to mold this terrain like clay! Move it up, down, and all around. Also watch my terraforming tutorial in the kiosk nearby.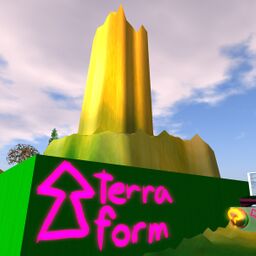 Click my head to read my blog posts!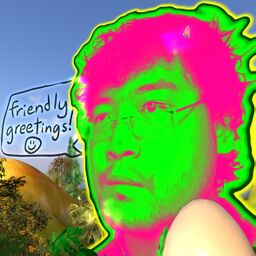 Other "exhibits" are subject to change... Here is lively, dynamic, and engaging! Like Second Life itself!