Land Expo 09
Jump to navigation
Jump to search
| | |
| --- | --- |
| | This article is obsolete, but kept as a historical record. Do not rely on this information in any way. However, it may be used in the future, so please do not delete or modify. |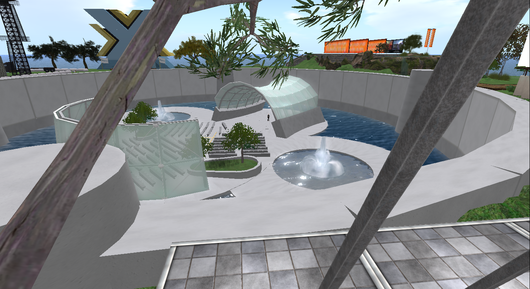 Welcome to the Expo!
In Second Life, land is what gives your content presence, boundaries, and a sense of permanence. In the last six years, Second Life's land mass has gone from 11 regions up to (at last count) 27483 total regions. Reminiscent of the unwieldy wild west in the United States 1800s and around the world in times of frontier exploration, some have found settling on land in Second Life to mean great opportunity and a means to enhance business, community, and collaboration in innovative ways.
To support the growth of innovative uses of land, to share best practices in virtual land management and development, and to support flourishing land businesses in Second Life, Linden Lab is proud to announce the first inaugural Land Expo!
Second Life Land Expo 2009 - Schedule and General Info
What is the Land Expo?
The Land Expo is an opportunity for Residents to share best practices, compare land development offerings, and encourage the exploration of innovative uses of land.
When is the Land Expo?
The event will take place date- Tuesday, June 9th through Saturday, June 13th and will encompass a total of 12 regions open to everyone!
Sorry for the confusion! The Date above is the correct date!
What can you expect?
During the Expo, Linden Lab will be showcasing our NEW four prefab regions as well as many examples of innovative uses of land. There will be space available for land retailers to set up booths to advertise their land offerings. In addition, we will be providing a central pavilion where presentations on the topic of best practices in land management and land development can be shared.
RETAILERS: If you sell land in Second Life and have a compelling product or creative land offering, we encourage you to sign up for booth space. Booths must be able to fit on 2100 m/sq (750 prims) and may include landmarks, visual displays, and video stream explaining your offering. Space will be limited and we will not be able to respond to all applications. To sign up for a booth to advertise your land offering, please submit your request for space HERE.
We will follow up with the approved applications individually so please provide accurate information when applying.
LAND MANAGERS: Do you have expert advice or tips for developing immersive land experiences? When it comes to innovation and creative uses of land development do you have best practices to share? We encourage all land gurus who have advice on developing land to sign up for a 30min or 60min time at the central pavilion the week of 6/2-6/6 to present your ideas. Please submit your topic for discussion, a brief summary, and requested time for delivery HERE.
We will follow up with the approved presenters individually so please provide accurate information when applying.
Linden Lab Support Resources
Concierge Team
Engineering Team
XStreet
Documentation Team
Customer Market Development
Resident Support Organizations
The Azure Islands
AB Designs Inc
AKc Properties
Akimeta Metaverse Dev Solutions
Aloha Developments - Virtual Estates
Amethysta Estate, Amethysta Designs
Angelic Dreams Virtual Estates
Atlantis Rising Campus
Bay City Alliance
Belvedere Inc
Brautigan & Tuck Holdings
Chilbo Community
Coalcliff Designs
Coral Estate
Costa Rica Sims
Cove Islands
dAlliez Estates
DBC gmbh
dimysan
Dream Seeker Estates
FANTASYLAND Estate
firstmarine group
fox
Fox and Ground Construction Company
Fruit Islands (www.fruit-islands.com)
HIVAOA HOLDINGS
www.visiwa.com
HW Property Timeshare
The Blue Note Retro Jazz Lounge
Illius Estate
ISN VIRTUAL WORLDS
Italian Style Design
K&J PRODUCTIONS
Kiloville Estates
Lionheart Virtual Real Estate
LPHALT
MainlandSL.COM / TC Enterprises / Synchronicity Estates
Metaverse land Sales
metaverse land sales
NinjaLand Rentals
SciLands
Nouvelle homes
NYC
Peace Haven Communities
Prevost Paradise estate
Ravenglass Rentals
Reach Isles (see www.reachisles.com)
Regent Estates
rentmainland.com
RGF
Scarlet Creative (in world test case)
Serenityville Property Management
SkyBeam Estates
SL New England
SL Shakespeare Company
SLDesignLab & Fear Community Estate
SMILE
Solace Beach Estates
Suboceana
Talamasca Terraforms
The New Media Consortium
The Open University
The Wastelands
Three D Services | Marcus A / Marble Isle
Tribe Islands
Valhalla Estates
Viana Islands Estates
Virtual Ability, Inc.
Wild Islands
www.slvirtualland.com
XCESS World Estates
ZoHa Islands
Presentations
Tuesday, June 09, 2009
"Developing Land for Rental" with Josue Habana Tue, June 9, 10am – 11am
"The Open University - A Village Community in Second Life" with Kickaha Wolfenhaut Tue, June 9, 11am – 12pm
"Niche: Letting the Best of Second Life Shape Our Space" with Lefty Belvedere Tue, June 9, 12pm – 1pm
Wednesday, June 10, 2009
"New Island Owner Orientation" with MJ and Mia Wed, June 10, 8am – 9am
"Cross Media and Reality Event" with JfR Beaumont Wed, June 10, 11am – 12pm
"Choosing a Land re-Seller in Second Life" with Master Quatro Wed, June 10, 12pm – 1pm
"Land Sales Strategy" with Rich Grainger Wed, June 10, 1pm – 2pm
"The Indigenous Flora of Second Life" with soror Nishi Wed, June 10, 2pm – 3pm
Thursday, June 11, 2009
"A Custom Project for a Japanese University" with Holy888 Skjellerup Thu, June 11, 9am – 10am
"Landscaping and You - Prim management and effective solutions" with Aki Shichiroji Thu, June 11, 10am – 11am
"The First Time Renter" with Ayesha Lytton Thu, June 11, 11am – 12pm
"Issues and Solutions in Creating an Accessible Second Life" Gentle Heron Thu, June 11, 12pm – 1pm
"Bring life back to Mainland" with Carlos Uresti Thu, June 11, 1pm – 2pm
"A Multiple Choice Quiz Framework" with Fim Fischer Thu, June 11, 3pm – 4pm
Friday, June 12, 2009
"Managing Open Mainland Public Rentals and Land Preserves" with Prokofy Neva Fri, June 12, 10am – 11am
"Group Land - Tips and Tricks" with Chaos Mohr Fri, June 12, 12pm – 1pm
"How to Find and Keep Your Customers Happy?" with zoha boa Fri, June 12, 1pm – 2pm
"New Island Owner Orientation" with MJ and Mia Fri, June 12, 2pm – 3pm
Saturday, June 13, 2009
"Historically Accurate Buildings in Virtual Environments: The Architecture of Shakespeare's Era in Second Life" with Ina Centaur Sat, June 13, 8am – 9am
"Best practices for Land Rentals and Transfers of Land Ownership with Tenants" with Baal Infinity Sat, June 13, 1pm – 2pm
"Libraries as Information Guide and Leaders in Building Immersive Education Areas in Second Life" with Lorelei Junot Sat, June 13, 3pm – 4pm
"Making Enchanted Spaces for Collaborative Learning" with Bernajena Pinazzo Sat, June 13, 4pm – 5pm
Second Life Land Expo 2009 - Post Expo Statistics