Localization Central
Jump to navigation
Jump to search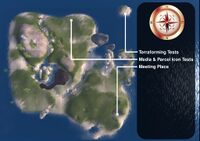 Localization Central is a region owned by Lexie Linden and provided for the Second Life CT Projects group. Only group members can enter the island. To join the group, please read about the current Community Translation Projects and sign up.
The island currently provides a meeting area, as well as an area for terraforming tests and parcel media tests.
In the middle of the island is a building which contains an Office Hour (OH) subscribtion board. Via the board, you'll be able to subscribe to Office Hours of localization Lindens. The board will send you 3 reminders per office four. One at SL midnight before the OH, one 1 hour prior the OH and a last one 10 minutes prior the OH, always containing a SLURL to the location where the OH takes place. To unsubscribe, just click the board and the Lindens name again. You'll receive a message when the operation was successful.
Test Locations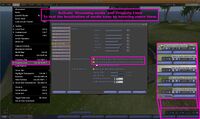 The test area provides different parcels for media icon hover tests. Go to Localization Central (136, 215, 24) and press Ctrl-Alt-⇧ Shift-P to highlight property lines. You'll see some 16m² parcells, all with different parcel settings (enlarge the image on the right). Make sure to activate streaming media in your preferences (see image).
Streaming music
Media: Audio
Media: Web
Media: Image
Media: Movie
No Media
There is also one parcel that is a damage enabled, no fly, no push, no build, no script, no voice area. At each parcel, hover above the icons and review if the hovertext has the right translation.
Next to the hover icon tests is one parcel that has ban lines shown. Walk into the banlines and review the dialog message in the lower right corner.
In front of the parcel with banlines is a parcel with a Land sale test. Please IM Zai Lynch when you'd like to use the parcel for this test and it will be set up for you.
Once it's set up, you can review the buy parcel dialog. Buy the parcel for L$0 and test i18n test strings the about land window. Set it for sale again and review the sale land dialog box.
Next to the parcels is a wall with some prims placed on top of it. There are currently 4 of them which contain scripts. Click one after another and follow the instructions / review the dialogs.
Suggest Improvements
The island is missing any special feature? Please suggest it at the CT Project Mailing list!
Related Links