User:Aryon Dagger
Jump to navigation
Jump to search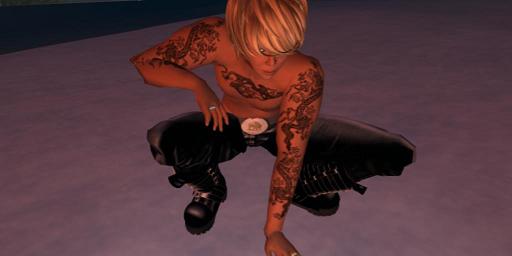 About
Hello, Aryon Dagger at your service. I'm female, in case its important *grins*, I have an unusual sense of humour, I'm a Butch Lesbian, a breast cancer survivor and a Syr in the Old Guard in first life.
I'm American but I live in the United KIngdom. Though in SL, I can usually be found on Mysteria. Mysteria is an all female sim where I am sort of a part-time DJ. I am also dedicated to the American Cancer Society (ACS) and have been known make speeches on their behalf.
I came to SL on the reccommendation of a friend to heal from 2 traumatic experiences. So far, so good, I'm moving on at a good rate of knots. That was March 11, 2007.
My hobbies in SL include DJing, building, exploring and learning. Outside of SL, I'm studying Forensic Science, I'm an avid reader and I love to cook.
I live by the code of honour that this quote embodies both here and in real life ... "A knight is sworn to valor. His heart knows only virtue. His blade defends the helpless. His might upholds the weak. His word speaks only truth. His wrath undoes the wicked."
Please do not edit this page if you are not me. You may contact me for changes that need to be made on this page, or in general, via the SL Wiki email function here
Interests
My "Topics of Interests" with the Second Life Platform can be found on my User talk:Aryon Dagger Page
Location I can most often be found
Personal Links
My Blog [1]