User:Baz Ceawlin
Jump to navigation
Jump to search
Baz Ceawlin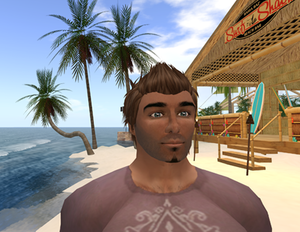 My name is Baz Ceawlin, I live in California, USA.
Some details of my avatar
Name: Baz Ceawlin
Nickname: Baz
Languge: English
Birthday/Rezzday: 06/02/2007
Birthplace: One of the many OIs (who knew there were so many)
Home: Living on a private homestead sim
In World Skills: Builder, Photographer, Textures, Event Planning and of course.. Shopping!
Real Life: Marketing, Advertising & Promotions Professional, Graphic Designer This is a great link for basic resources and information: https://wiki.secondlife.com/wiki/Knowledge_Base

Stuff I do in Second Life

Jake's Club

As owners of Jakes Club Reosrt, Jake and I strives to bring you the best retail, club, and over all experience in second life. This is not always easy to do; luckily we have a great staff to help us!

While the Jake's club resort caters to the GLBT community, everybody is welcome. We were built on a foundation of respect, inclusiveness, and fun, and we breathe these core values in to all we do.

If you have any questions, comments, or concerns, please don't hesitate to contact JakeC Hotshot or Baz Ceawlin.




Being A Second Life Mentor

Well, the official Second Life Mentor program has come to an end. As mentor, I found that I was far less involved in the activities of the official program as I was in just assisting people I came across that needed help. I will miss the afternoons when I log on to a complete free time and pop over to a help/ orientation Island to assisting New Residents in their first hours.

I find that helping people (especially those who want to learn) is truly rewarding. I have come across a handful of new residents which I felt compelled to take under my wing. They were eager to learn and I was more that willing to patiently teach them all I could. These are the experiences that make Second Life so personally rewarding. Even though Linden Lab has disbanded the official mentor program, I will always be a mentor to those who need me.