User:Bob Bunderfeld
Jump to navigation
Jump to search
The Great and Mysterious OZ isn't here, so you'll have to settle for me, Bob Bunderfeld.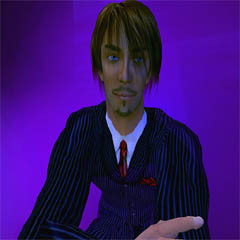 I am Bob Bunderfeld, long-term resident of Second Life. Some of you know me through the New Resident Q&A Events I have been holding for the past 5 years, and others know me from my in-world business, Builders Choice Premier Textures.
When I first discovered Second Life, I knew after 10 minutes, that this would be the world I would settle into for a long time. The one thing that impressed me the most when I began Second Life was, and still is today, the ability to build all sorts of things.
I first started building furniture and soon found myself being asked to build furniture for others. Eventually I stopped building furniture and began building structures of all types.
There were only about 200 people logging into the world then, which made for a nice group. In the beginning everyone was willing to help when needed. I remember that I was trying to build an Arch Opening that would have a flat surface on three sides to connect the structure. I worked on this for hours on end and by accident, I discovered the "hollow shape" feature. This of course led me to the Arch Door and Window. The very next day I was receiving IM's from people I didn't even know, asking me how I built the Arch Door and Window. I shared this knowledge freely, and today, still share my knowledge of building with those that want to learn, and my knowledge of Second Life in general with New Residents that find their way to the New Resident Q&A. If you would like to learn the art of building in Second Life, feel free to contact me in-world and we can setup a time that's good for the both of us.
I also spent 4 1/2 years as a Mentor. I enjoyed that opportunity immensely, but had to give up my position or part with my dignity. For those still in the Mentor Corp I want to encourage each of you to continue to work in the system and help all that you can. You are all needed and appreciated by everyone you touch.
4Friends
By my third month of Second Life, I had found a very close friend, Cal Rogers. Cal and I were the group leaders of a group known as 4Friends. This group was brought into existence for the sole purpose of helping others. When a New Resident would look up either Cal or myself seeking assistance, we would invite them into the group, give them a floor on the ever expanding 4Friends house, and would help them learn whatever they were interested in doing. Back then Cal handled the Scripting and Terraforming while I handled the building and general Second Life knowledge.
Slate Community
In July, Cal and I decided to move out of Tehama and into a wonderful wide open area known as Kissling. Can bought up a large portion of land. At first, we used the land to further our knowledge and skill sets in Second Life. I would hold building lessons there at least once a week, most of the time, two or three times. Many of my oldest friends in Second Life actually started with me giving a building lesson to them.
Shortly after moving to Kissling, I began to grow tired of my constant go-go way. I wanted some private land, that I could retreat to, that I could escape to. Cal agreed that I should seek out a parcel of land for myself, and so I went looking for land. I flew through many sims, most of which were empty, and then, like magic, I flew into the area known as Slate. The Slate sim was a sight of beauty and peace. I immediately began buying up land that was adjacent to Olive (at that time Olive was a Sandbox). I bought up almost all of the waterfront area.
I decided that I would build a real Log Cabin, and make it look as rustic as I could, to give it that lived-in look and would not conflict with the surrounding area. As I began building my new home, another New Resident of Second Life (we all were fairly new it seemed) was walking up and down the waterfront. After a while, Kenichi Chen stopped by the Log Cabin I was feverishly working on and asked if I wouldn't mind selling him some of the waterfront property. Kenichi and I talked for a while, and I liked what he had in mind, so I sold him some land at the same price I bought it, $1L per meter. Kenichi was the first to bring up the idea of trying to build a community in Slate. As we talked about it, the idea began to look more favorable to the both of us. We knew that in order to build a Community in a public sim we would need the ability to control the land in that sim. Kenichi and I then began buying up as much land as we could afford. It was at this time, that Crissy (I'm sorry, forgot your last name hun) joined Kenichi and I in the idea of starting a community, and began buying up the property. Two others joined us, Cori Sunshine and Catherine Cotton, and it wasn't long before we owned nearly 99% of the land in Slate. As we all started to build our own homes in Slate, we also began discussing the idea of the Slate Community. I'm not sure who it was that started the first Slate Community Group, but we all joined; this was before 0.19v so we couldn't deed the land to the group. The Community began to flourish, and many people asked to join the group. It was at this time that the Core Members of Slate sat down and talked about the membership in the Slate Community. We all realized from the start that we all had one thing in common; our age. Every one of us was in our upper-twenties or greater. We decided that we wanted the same type of people to join the Slate Community. We also decided that the Slate Community housing would look the part of a Lake Community. The houses would be lake homes, or something similar, and we would have a public swimming pool and general party area. For the next few months the Slate Community grew in numbers and reputation. Nothing worth mentioning happend until Linden Lab announced 0.19v. This version would give us the ability to deed our land to a group and assign Land Rights to the group to cover the amount of Land that was deeded. While this was great news to us, it came with one small setback. In order for the land to have this capability, all the land would revert back to Linden ownership, and upon re-entering the world, we could then buy the land back and have it deeded. At this time, we also learned of the "Charter Accounts", where we could buy a lifetime account and that would come with a $500L Stipend a week and 4096 sq meters of Land Rights. Someone, not myself because I suck at math, mentioned that we could purchase extra lifetime accounts and donate their Land Rights to the group, and within 8 months, we would have broke even; meaning that after 8 months, if we were paying a tier fee for the land, we would have paid the amount equal to the costs of the lifetime accounts. We talked about this plan, and even contacted Governor Linden to ask if we could buy more then ONE lifetime account, and were given the Governor's blessing; that's exactly what we did. During the "buy back" period, we gained a few more meters then we had before, and lost a couple of meters to people that also enjoyed Slate, but didn't want to join the Slate Community. After this time, the Slate Community began to be one of the more popular communities in Second Life. I also moved my New Resident Q&A Events from the Dore sim to the Slate Community area. We held the New Resident Event every Monday, Wednesday, and Friday, and after each event, one of our Slate Community Residents, Willow Dion, hosted a Pool Party at the Slate Community Pool and Party area.
The Slate Community was a community of friends. We enjoyed exploring as a group, but also just sitting back on someone's porch and talking. The Slate Community lasted for three good years, but, as with life, people's prioties change, and so I found myself holding onto a group without a lot of involvement from it's members. It was at this time I decided to close the Community, and most everyone agreed that it was time, but instead of breaking up the Slate sim and letting it become another piece of chaos in the world, I gave it all to one of our Core Members, Khamon Fate. Khamon now runs his Fate Gardens store in Slate, and allows me to live there and run my boating business there as well.
The Slate Community was a wonderful time in my Second Life, and I hope that everyone can find a group, that was just as wonderful as the Slate Community, and find friends there like the friends I had in the Slate Community group. No truer friends exist, then those I made in the Slate Community./