User:Csteph Submariner
Jump to navigation
Jump to search
Csteph Submariner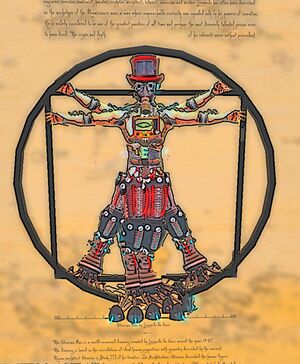 Slept through my own third rez-day, and now I am another year older.

--Csteph Submariner 07:00, 12 March 2010 (UTC)
wiki formating guide here
---
We All Live In A...
---
I designed and, with help from a few good friends, built the First World War Poetry Digital Archive region at Frideswide.
The First World War Poetry Digital ArchiveD
We are very proud of this region. We are currently featured in the in-world Showcase Editor's Picks. I am presenting a tour of the region on Friday 12th march 2010 at the 3rd Annual Virtual Worlds Best Practice in Education (VWBPE) Conference [1].
Also for the conference, I have been helping my friend Espie to build a coral reef for her poster session about her workd in-world with the NOAA [2]. The plot is currently on display at

In my spare SL time I like to mess around with photography and creating avatars out of bits and bobs.
SL is now a big part of my first life as I have a component of my job which includes it as well as a large slice of my 'spare' time. I'm interested in exploring the possibilities for teaching within SL, especially teaching literature, from an instructional design point of view and from the point of view of an inveterate bookworm. The Frideswide region was a first attempt in this direction.
Quote of the moment:
William Sims Bainbridge on holding an academic conference within World of Warcraft - "We encountered absolutely no technical problems, although one scientist drowned and another was eaten by hyenas."