User:Dedric Mauriac
Jump to navigation
Jump to search
Profile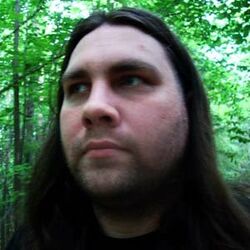 Born:
Mon 28th Nov 2005
About:
Scripter,Experimentor
Achievements:
Owner of Woodbridge region
Avatar was on TV
Relay for Life of SL

Participant: 2006
Team Member: 2007,2009
Team Captain: 2008

Podcast

Guest: Dali Haskell Show
Guest: The Podmafia
Guest: Mr. O Show
Guest: 100 Word Stories
Host: Blue Hair

Constests

Won: OSRAM 1 Million Dollar Idea contest

Open Source

Contributor: SL My Inventory Viewer
Tester: OpenSIM GridNaught
Tester: OpenSIM on OS Grid

Featured

SLCN.tv Infomercial
SL Education (SLED) e-zine

Content Creator

AvaStar
Cisco Systems
Computer Sciences Corporation (CSC)

Subject Matter Expert for employer
Developed 8 Regions in 1 month

Dedric Mauraic is an avatar representing the persona of Lewis Moten (also known as "Lewie"). Lewis is a long time resident with a wide range of technical skills. Lewie understands the scripting language that makes objects interactive and can offer multiple approaches to solving most problems by integrating existing services, or developing custom solutions. He also focuses on resource constraints and user task analysis.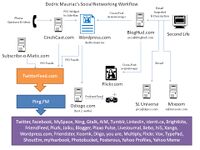 Lewis often posts daily snapshots and brief details about his experiences in the virtual environment. He has a complex range of services that automate the posting of each post throughout the internet on social networking sites as well as services to translate those posts into podcast form. The primary location to keep up on his experiences is on his blog for Dedric Mauriac hosted at wordpress. In addition, he has produced his own podcast, Blue Hair, featured on Rezzed.tv. A more regular podcast has recently started providing daily opinions as well on a separate podcast feed on cinchcast.
Lewis Moten's real life job is with CSC (Computer Sciences Corporation). He was one of the leading subject matter experts in a global team bringing CSC into Second Life for it's 50th anniversary celebration.
Mr. Motens skillset in the IT industry consists of (but is not limited to) the following:
Operating Systems
Desktop and Web applications development

Visual Basic/VB.Net
C#
PHP
ASP.Net
Clasic ASP
JAVA
Ajax/JQuery
IIS
Apache

Data architecture

MySQL
Access
SQL Server
XML, XSD, XSLT
LINQ

Graphic Design

Adobe Photoshop
Adobe Illustrator
trueSpace
Blender
Poser
Look ma! I am editing myself! --Dedric Mauriac 18:00, 9 November 2007 (PST)
Contact Follow me on twitter: dedricmauriac