User:Dirk Talamasca
Jump to navigation
Jump to search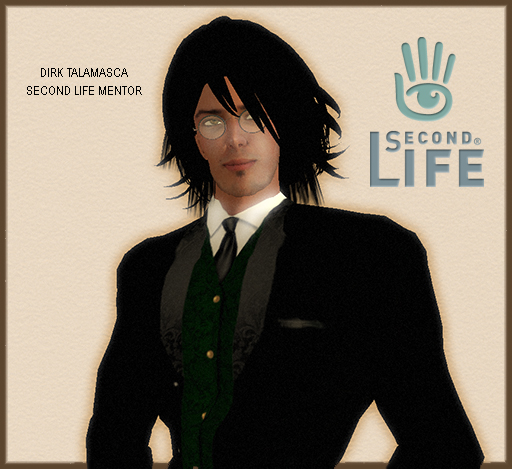 Dirk Talamasca - Second Life Mentor
Second Life Experience
I became a Second Life resident on the 5th day of October, 2005 inspired by a thread on an astronomy forum. I was fascinated by the possibility of collaboration in 3D worlds so I decided to have a look.
I remember well that there was a mysterious aura upon entering Second Life that hooked me instantly. I felt as if I could actually make things happen here which was totally unlike the feeling I had upon exploring other 3D environments.
I was lost, I didn't really know what I was going to do here but I knew I was going to stay. I was very fortunate to have many people waiting to welcome me upon my arrival. A Greeter and a Mentor were prepared to ask what I might be interested in and took the time to help me in a myriad of ways.
Second Life has grown a great deal since then and in that time I became very involved with virtual land. My own as well as land owned by Anshe Chung. I was a Dreamland Angel for Anshe for a little over a year... I must have sold half of Dreamland. I may have even sold some land to you! Because I was present when this great rush to SL took place and because I was involved with land, I met many, many residents. I found that they were entering in such numbers that they had no orientation into Second Life at all. Second Life simply did not have enough islands for residents to enter at such a rapid pace. As a result new residents landed all over the grid. They did not understand how to buy land, how to alter their appearance or a host of other things that I had help with upon my arrival. This dramatically affected the way many seasoned residents did business. Now everyone had customers that did not know how to buy things, wear things, find things. Business owners had to spend extra time helping rather than designing and creating products. I became a teacher, a builder, a scripter, an advisor and a friend to everyone that bought land from me. Many of those people are now some of the most successful business owners in Second Life. It is really a rather nice feeling when those residents run across you and remember that you helped them. I like that feeling and that is why I keep on doing what I do. It is the very best reason to be a Mentor.
Because of SL's phenomenal growth, it has become increasingly difficult to find a Mentor available to help new residents along. Gone are the days when you had to search the map to find green dots in order to have someone to chat with. Second Life has exploded and Mentors are in high demand. The Volunteer Team is working hard to train new Mentors and we have a lot of fantastic people volunteering. Mentors can be found on the Orientation Islands and Help Islands readily, however, we do not always know where help is needed once a resident has entered the mainland. Mentors are available to help you anywhere in Second Life. These wiki pages are designed so that you might learn about the Second Life Volunteer Program and its participants and contact us if you need assistance.
I love Second Life, I love people, I love to laugh and learn and I will be very happy to help you find the answers to anything you want to know. I am always busy so no need to be formal or ask how I am doing when you message. Feed me a question and I will answer as fast as I can.
All The Best,
Dirk
Contact
Email: dirk@dirktalamasca.com
Ask a Question
Feel free to ask me questions on my talk page. I'll post an answer as soon as I am able.