User:Lara Shepherd
Jump to navigation
Jump to search
Who is Lara Shepherd?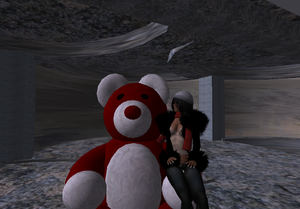 Lara Shepherd was born in February 2007 and has adventured a lot since this time. She started SL out of curiousity and sticked to this game ever since. She ran through different job opportunities like dancer, host, translator, poster, games host and teacher. With the last one she fell in love and never stopped teaching since September 2007. Right now she is trying to let grow her own learning and teaching environment after having seen many examples of schools and colleges. She loves to build, to create textures and to help other people as teacher and SL Mentor.
Have a look at her blog at http://larashepherd.wordpress.com/ where you can get infos about what she is doing and get some tips and tricks for Second Life.
My Real Life
I am a German lady in my thirties and am enjoying my life each day after passing through hard times during my early twenties. I am a social worker and can say I love my job even if there is always something to enhance. I speak some English :), French and Italian, I love singing and writing and many more things I would love to do, but never find time for.