User:Marianne McCann
Jump to navigation
Jump to search
Biography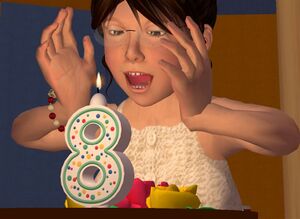 Marianne McCann is a Child Avatar on Second Life. Coming in-world in the later part of February 2006 as a fairly standard adult avatar, Marianne soon developed into the "inner child" of her player.
Marianne was involved with builds within the Second Life's Third Birthday Event and Fourth Birthday Event (the latter largely created by Loki Eliot) to focus on the "lives" of child avatars within Second Life. There were some difficulties with the Fifth Birthday event, with both her and Eliot initially being "respectfully declined" from participating, then reinstated less than a week later due to public outcry.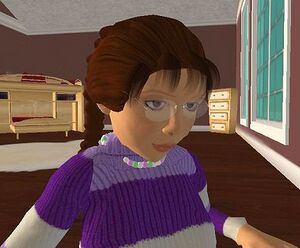 McCann has attempted to provide a "face" to SL's "Inner Children," and is a officer of Second Life Children.
In October of 2006, Snapzilla spotlighted her extensive collection of in-world snapshots. She also was chosen as the winner of the 2006 Bubbly Kids in-world beauty pageant, is a graduate of HardKnock Elementary, and helped to create a public park on Info Island.
In November of 2007, Marianne won the 2007 Uncanny Valley Expo contest sponsored by New World Notes. This led to a sizable interview on the use of child avatars in Second Life. She also has written for the Metaverse Messenger on child avatars.
Marianne McCann runs a toy store called "You Know, For Kids" that she founded in 2006. It now has two main stores -- one in Livingtree and one in Bay City - Imaginario at the corner of Route 66 and Willoughby Way. She also rents space at Inner Child Mall in Fletcher, and has a small selection of good at Aqua's Avatar Central location. She also has a modest plant and herb business in Bay City and Livingtree, as well as a Snow Cone restaurant/hangout space in Miramare.
She has regularly grown, starting her "second childhood" at age 3. She is currently 8, and may be staying that age for a while.
Family
Like many child avatars, Marianne has been a part of a Second Life family consisting of other people's avatars. her family includes her mother, Sazzy Rosebud and her father, Laurynce Book, Pygar Bu and Robin Howe, her brother and sister, her nana, DaddysBoo Chase, cousin Fae Jarrico, and several other members of her extended family. Her family life is largely "on hold" at this time.
Bay City and Beyond
Marianne was one of the earlier landowners in Bay City, purchasing her initial plot in the third round of auctions. She has since expanded to four parcels in Bay City, as well as a small plot in Nova Albion, and a home parcel in Shermerville NW. Due to her interest in the Bay City theme and her city land holdings, she has been a member in good standing of the Bay City Alliance. She has helped to guide the construction of the Bay City Municipal Airport, the Bay City Fairground, and Bay City Center, as well as directly involved in the creation and installation of Bay City's street signs. She also helps manage the Bayjou Theater in Bay City.
In the autumn of 2010 she helped provide content for the Bay City Community Center in Daley Bay.
Marianne continues to help manage events in Bay City, including Mole Day, the anniversary event, the tree lighting, and the prim drop.
Events
Marianne has often been involved in Second Life events, starting with producing a pavilion for the Second Life Children group at Second Life's 3rd Birthday Event. She has been a part of each birthday since, by providing a build for the SLC or Bay City, as well as other builds such as the Welcome Area and SL History Walk at SL10B. She has also been heavily involved with Burning Life/Burn2, including working with her regular collaborator and SL brother, Pygar Bu, on The Man build for several years.
Marianne was heavily involved in The Arcade Gacha Events since 2012, eventually bring the head chat moderator and staff lead for setup. She is also the setup assistant for the Collabor88 event.
Livingtree
After the passing of Marianne's long-time collaborator, Robin Sojourner, Marianne took over operating the Livingtree region, as well as all of Robin's accounts.
Additional Information