User:Msakaji Yoshiro
Jump to navigation
Jump to search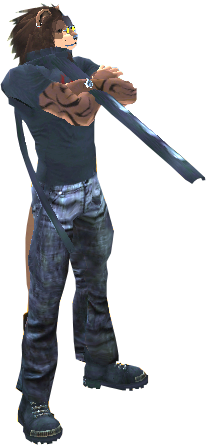 | | |
| --- | --- |
| en | This user is a native speaker of English. |
| | |
| --- | --- |
| pl-4 | Ten użytkownik posługuje się językiem polskim prawie jak językiem ojczystym. |
| | |
| --- | --- |
| de-1 | Dieser Benutzer hat grundlegende Deutschkenntnisse. |
| | |
| --- | --- |
| ja-1 | この利用者は少しだけ日本語を話すことができます。 |
| | |
| --- | --- |
| fr-1 | Cet utilisateur peut contribuer avec un niveau élémentaire de français. |
Msakaji Yoshiro is a Resident of Second Life whose First Life counterpart is a fully bilingual resident of Poland, male, aged 22, and currently studying Modern Media and Computer Arts at the Polish-Japanese Institute of Information Technology. He speaks English and Polish natively, and has studied German to a conversational level and is currently learning Japanese in college as an optional extra subject. The name "Msakaji" originates from Swahili (not Japanese) and means 'hunter', a fitting name for a lion character. It is pronounced in three syllables, 'Msah-kah-gee', where the M rolls into the S and almost silent. The surname, "Yoshiro", is one of the predefined avatar registration last-names available in early 2005, and either originated from the Japanese ex-president or the Nobel Prize winning dietary scientist that share the same name.
History within Second Life
Msakaji joined Second Life on February 17th, 2005; having paid money on the internet for the first time. Second Life accounts still cost $10 back then. This occurred while he was still a student of the International Baccalaureate programme at the British School of Warsaw, Poland. Admittedly it was not a good choice to spend idle time online, given that the IB does not allow its students too much First Life to play around, anyway. Msakaji's mentor in Second Life was Pirate Cotton, who taught him how to manipulate prims, manage his inventory and insert scripts into objects to bring them to life -- all within the very first week of using Second Life at a time when mentors were scarce and there was no F1 for in-world help.
Msakaji and Furry
Msakaji joined Second Life of his own accord, having heard of it through browsing news sites. Having been an avid participant of the furry artist community since 2001, Msakaji was keen to turn his Second Life avatar into something resembling his main roleplay character and online persona. This was a challenging task considering that models in version 1.4 of Second Life were considerably more limited in complexity to current avatar creations; so Msakaji took upon a generic lion-shaped avatar purchased at the store in a furry-themed region named "The Forest".
The Forest was one of few early furry-themed Second Life venues, in which Msakaji met Ash Qin by complete accident, having been previously acquainted with him outside Second Life. Ash was experienced with Second Life and taught Msakaji many more things, such as how to open the contents of purchase boxes and copy them to the inventory without attaching the box to the head.
Msakaji and Ginko
Shortly afterwards, Msakaji was banned from the region by its owner, Spade Richelieu for petty dramatic reasons few can remember. This was not an uncommon occurrence, yet the ban was lifted some time later. During the time of the ban, Msakaji found his way into a region named "Ginko", the home of the well known Second Life bank "Ginko Financial", shortly after the inception of the service. Msakaji made acquaintances there, and became part of the development group for purposes of creating textures for the main builder at the time, Zoren Manray. Msakaji spent most of his time socializing and contributing to Ginko and the bank service, for the best part of a year, and considered it his Second Life "job" and his main source of L$ income. Msakaji created the screen textures shown on the ATMs for Ginko Financial that were used until the closure of Ginko Financial in August 2007. Msakaji's first real residence in Second Life was on group-owned land on the Ginko sim, and it consisted of a red swedish-style wooden house designed as a virtual model of the real-life residence of his biology teacher. The house took 28 hours to complete and was Msakaji's most aspiring building project. It was removed a few months after being built, on grounds that it did not suit Zoren Manray's style or theme that was incorporated in the rest of the sim. Msakaji left Ginko of his own accord, deciding that by spending all his time there limited his social circle to the elitist nature of the other members of the group, and sought to spend more time with other friends he had introduced to Second Life from the outside.
Msakaji and Mythos Prometheus
Many avatar changes and a new home later, Msakaji took up a 2048 metre-squared parcel in the region "Mythos Prometheus", which had other furry and human residents that he was acquainted with outside Second Life. The parcel was paid for out-of-pocket for a period of 5 months, after which Msakaji decided to move to one of the considerably cheaper and popular prefabricated skyboxes available for rent from Solus Candour, an officer of the group responsible for rentals in the region. Msakaji was resident before and after the ousting of Wolfdemon Mechanique as official owner of the region, and recently became part of the officers rank of the group "Prometheus Redux" responsible for administering the region.
Msakaji's aspirations in Second Life
Being one of few early Polish-speaking Residents of Second Life, Msakaji is pleased to see that since January 2007, a large influx of other Polish-speaking Residents began to join Second Life after media coverage of the service in Poland. Unfortunately Second Life is not easy to accustom to for users unable to speak the languages supported officially by the client and services, so Msakaji aspires to help new Polish speaking Residents of Second Life to learn the ropes and often helps out people with queries. Having heard that large international groups are each assigned a Linden Liaison, Msakaji gained hope that some day he might become one responsible for the PR and client translation to Polish Residents of Second Life. He applied for a place but received no response, yet was granted Mentor status in August 2007, which is a stepping stone on the way to expanding and fulfilling his aspiration.
On the business front of Second Life, some experience with Ginko Technologies has given Msakaji a survivor's knowledge of running a small business in Second Life, and of ways to earn money. Msakaji has created a few items for sale that he has placed in a simple vendor-store named "Yoshiro Electronic Corp", the income of which sufficiently pays his in-world skybox rent.