User:Shoshana Epsilon
Jump to navigation
Jump to search
Profile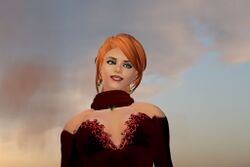 Born:
Thu 8th Sep 2005
About:
Blog:
Overview
Shoshana Epsilon takes extraordinary pictures in Second Life. Primarily a portrait artist, she also has some wonderfully emotive "world" pictures, as well. When taking portraits, she has a way of "capturing the soul" of the avatar that defies explanation. She specializes in raw photography, using very little Photoshop post-processing to achieve her goals.
Shoshana's first art display was at SL3B, SecondLife's 3rd Birthday. She has been the art director for SL4B_Art , and is now the director of SL5B's art display.
Shoshana has been the featured artist at several displays: the Metaverse Gallery Premiere Opening for the UTD (University of Texas at Dallas) Artech display, Angel Dorei museum and a the Library Gallery. She will be the featured artist at Avatrait in April 2008. The has been the curator at Rezzable's Cannery Gallery and is on the Board of Directors at Avatrait.
She has numerous in-world art-galleries, two in Steiger, one in Atropolis, one in Corleon, one at the SLACC (SL Arts Community Center) and one at the Photo and Art Warehouse. She also has an art maze.
Check these out: SecondLife Art Redbubble Avatrait

You can find her SL profile.
Articles
She has had several articles written about her:
Mixed Reality
Shoshana also has experience in several mixed-reality productions.
She works with RL oil painters to create RL oils of SL avatars. See the webiste at: http://www.secondlife-art.com/profile/shoshana_epsilon.php.
She has also worked with poet Dharma Austin to create a book of poetry about SecondLife.
She works with Avatrait, a company that takes avatar portraits and prints RL pictures from them. http://www.avatrait.com/about_us.php.
She is working with a small company in China to create 3D figurines of SL avatars.
Working with Rezzable on the Cannery Gallery, she is creating RL books that contain works from the gallery showings.
Summary
Take a look at her most current work! Her pictures can be found on her flickr website: http://www.flickr.com/photos/shoshanaepsilon/
See also: SL4B Art
She recently created a blog at: http://shoshanaepsilon.blogspot.com/