User:Sierra Sugar
Jump to navigation
Jump to search
About Sierra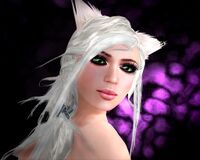 Sierra Sugar has been a resident of the virtual world Second Life since March 2005. She is a DJ and voice personality both in Second Life and internet radio since late 2005. She's worked with a variety of clubs and businesses in Second Life to include Ozimals, Tiny Empires, Rezzable, SL7B, SL8B, Burning Man, Relay for Life, Seven Ultra Lounge, The Weather Channel, Surf Rider's Foundation through Namiko, and various other associations.
"Sie" or "Kitty" as her friends call her, also is involved with event planning and promotion throughout the SL grid. Along with her social networking, Sierra has a love for virtual photography and fashion. You can join her DJ group "Sierra's Circle" inside Second Life to catch her DJ shows.
Sierra is also a "Neko" and has been since her early days in Second Life, making her one of the few original Neko's in SL.
Featured Blog Items
Virtually Six: In the normal chronology of life six years can be a significant amount of time. If a person lives to be 60, six years is 1/10th of their life span. If an average adult marriage lasts 30 years, six years is 1/5th of that time. To a teenager six years is longer than one spends in high school or for many even college. But in terms of virtual chronology six years is more than a lifetime...
Two Three Six Five: Autumn. A time where the shortening days are marked by rustling of bright yellow, golden orange and vibrant red leaves as they fall from trees. A time of change. It's October, and life all around me is changing. Earth reminds us of her infinite wisdom not merely by the change in temperature but with visual cues of color and light. The wax and wane of...
I am beautiful: "You'd be so pretty if you'd just lose weight." I don't know how many times I heard that when I was growing up. I was in the 6th grade the first time I was put on a diet. Seriously! I remember I was 4'6" tall, 99lbs, in gymnastics and a tomboy playing baseball, swimming, dirt bike riding, lifting weights, and other activities and I was put on a diet. I learned to dress to hide my body as it filled out through puberty. I walked with my head down. I kept to myself. I stopped participating in group activities. And I did everything to undermine the various forms of diets over the years....
You can follow Sierra on: The Sweet Life of Sierra Sugar Facebook Flickr Plurk Twitter