User:Suu Miles
Jump to navigation
Jump to search
Suu Miles in a nutshell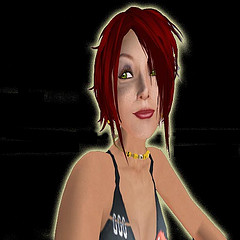 *Who am I?: I am in sl to have fun, to meet friends and make new friends, to create and to explore.
I have a lot of fun in building, know some stuff about having a business including all the photoshop bits and bobs, ran a bar, managed a sim, enjoy djing a lot :-) If I can help you out, just ask away... There are no dull questions, just dull answers ;-)
Languages:I speak English and German.
Behind the scenes:I read, a lot. I question things, I might get sarky over things as well, but I am open minded and like to meet new people who challenge me! Since I am a mediator in real life (well, amongst other things) I tend to solve problems in world too... Residents who know me tend to come to me when it comes to problem solving (ranting alone is not enough :-P) so if I can be of help, feel free to im me.
My motto: Life should NOT be a journey to the grave with the intention of arriving safely in an attractive and well preserved body, but rather to skid in sideways, chocolate in one hand, wodka in the other, body thoroughly used up, totally worn out and screaming "WOOHOO what a ride"
Skills
Textures: I am VERY visual, hence me loving (or worst case, hating) certain places, clothes etc. due to texture overload. I create my own if I need to, so drop me a note if I can be of help there.
Building: I have some experience in building, not buying anything anymore, but stick to diy.
Hosting/DJing: I have been a host at a 24/7 bar, managed it and later on the sim as well. Now I am only djing at a few places for fun and to meet up with my friends :-)
Miscellaneous
Treat everyone like you want to be treated. Always interested in meeting new people :-) So don't be shy and drop me a note.
My MUTE list: I mute people who talk in gestures only, if you can't keep a conversation going without gestures then you better shut up. I mute people who hit on me. You don't like that? Tough.