User:Youri Ashton
Jump to navigation
Jump to search
About me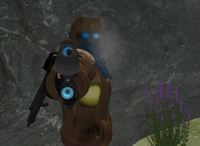 I am a Second Life Resident since 19 January 2007 and love to create new things. Usually I am working on medieval and pirate themes, but I do lately switch over to other themes so I can learn about this as well. I am friendly, usually very creative, patient, perfectionistic, helpfull and I love to chat with people from all over the world. I however like to do deep going discussions if these are interesting to me. I love to shop for new outfits, avitars and other nice things SL has to offer!
Some Real Life info that I can give and willing to give, well hard to do since I rather keep SL and RL separated. I can say I am 27 currently and have Asperger Syndrome, I love gaming which I usually do most of the time. I do not have any kind of work, I however do see the work I am doing in SL as my full time job. I rather do something that I like and see fitting then something I hate and see no point in doing.
What I do in Second Life?
I mainly build and try to improve my skills during this. I used to sell most of my products on xStreet, but since LL decided to change the rules I took my things offline. I do not have my own store in-world either. This due financial problems, I simply can not afford to rent land and/or a store. So if you like something, then please contact me! I do also work on making it easier on people with a disability, for example Hellen Keller Day event that I as well worked on. I also try to attend most of the Linden Office hours if my time allows and try to help to improve Second Life and the infrastructure by translating text to Dutch or improving wiki pages. I try to report any technical issues via Jira that I may encounter. I recently started my own Twitter and also my own website.
Where do you find me?
You can usually find me in one of the meetings or a sandbox, I however do not wish to chat when I am working on one of my projects. You can however ask me for my bear! I love to give you a copy! Please leave me a notecard in-world, this to prevent your message is getting capped. Thank you in advance! (I am NOT a Linden, please use the official support channels)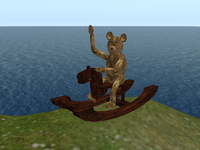 Do I have a bear?
YES! I do have a bear and Ill be honored to give you one, do know you have to actually see me! Ask me trough IM and ill fish it out of my inventory for you! Yes, my bear is based on the idea started by Linden Lab. I found it a great idea and there for I have my own bear! Please see the pictures on the right to see my own bears! Latest version is 1.2 (September 19th, 2009), this latest version has also a wearable version of the same bear!
Blue Reaper Productions
Blue Reaper Productions is my own company (group name is the same). The idea of this group is letting people know what new products I release and with what I am working on. Some times even a free item may come trough this group as well. BRP on xStreet SL - Due to new LL rules on xStreet I was forced to take my things offline, Please contact me if you wish to buy something!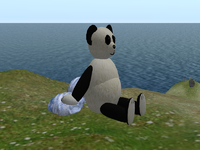 SL Unlimited
SL Unlimited is my own blog/website for this avitar, I post a lot of information on here although I don't have always the time to update this. I also go out and try to find great places for you to visit, this could be a place that looks just stunning or something for your avitar (clothing, building, toys, etc.), showing my collection of Linden Bears, my own products and projects, pictures and much more!
Things I made
I can and will not post everything I did, this page will simply be too slow if I do. But I can show a few things I been working on recently, so ill add links to my Flcker page when available :)
Quick Reference
Jira Reporter
SnowGlobe Tester
Member of the Community Translator Project (Languages: Dutch, English, but trying to learn French, German and Japanese)
Second Life Answers Volunteer
Owner of Blue Reaper Productions (BRP)
--Youri Ashton 04:36PM, 10 April 2010 (GTM+1)