Viewer 2 Moves
Jump to navigation
Jump to search
| | |
| --- | --- |
| | This article is obsolete, but kept as a historical record. Do not rely on this information in any way. However, it may be used in the future, so please do not delete or modify. |

This page shows you where stuff moved from Viewer 1.23 to 2.0.
| | |
| --- | --- |
| | Tip: You can add to this page! Please keep sections in alphabetical order, and make formatting neat and consistent. |
Also add screenshots as-needed, visual communication is very useful.
Viewer2Tips island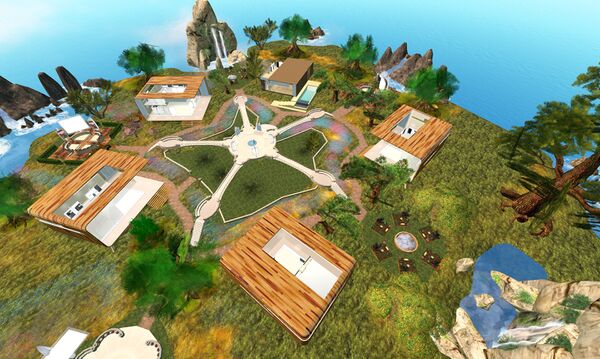 Viewer2Tips is our helptastic island which, like an art museum, shows the graphics below. The inworld advantage, of course, is you can hang out with friends and discuss. There are gathering areas to relax. Learn more, then come and visit using a SLurl like:
Doc Team hosted an office hour here on 2010-04-14. Thanks to everyone who came!
Avatar
Bumps, Pushes, & Hits
Classifieds
Classifieds are a type of pick so they show up in the MY PICKS tab of My Profile.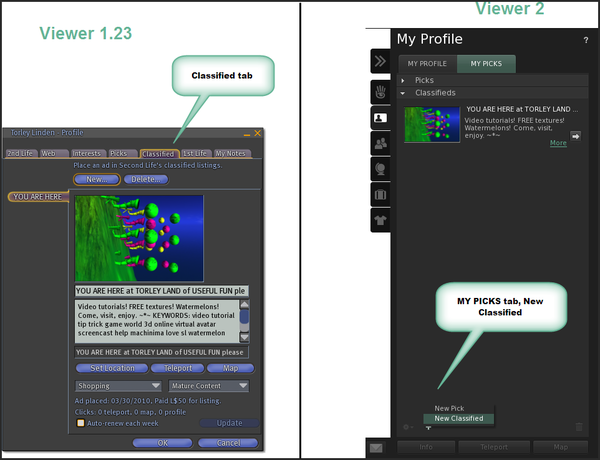 Friends permissions
1.23
Click Communicate button.

Or choose Edit > Friends.

Click Friends tab. Look at the icon columns to the right of your friends' names.
2.0
Click the sidebar's People tab.
Hover over a friend and click the arrow icon on the right.
Click

Notes & Privacy

tab. Look for "Allow this person to".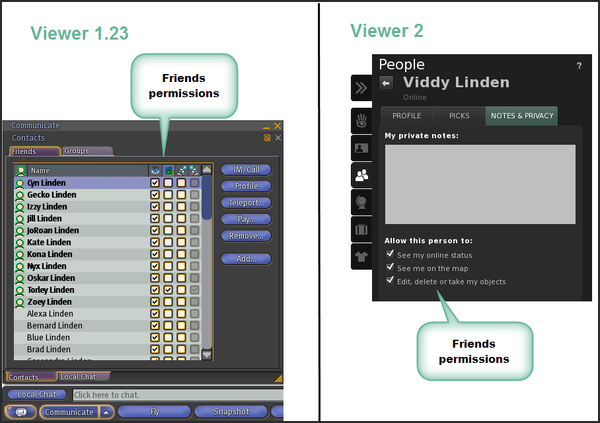 Lag Meter and Statistics Bar
1.23
Choose Help > Lag Meter.
Choose View > Statistics Bar.
2.0
Enable Advanced menu.
Choose Advanced > Performance Tools and look for Lag Meter and Statistics Bar.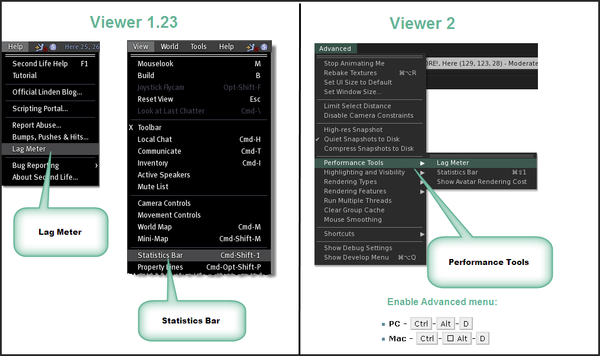 Lip Sync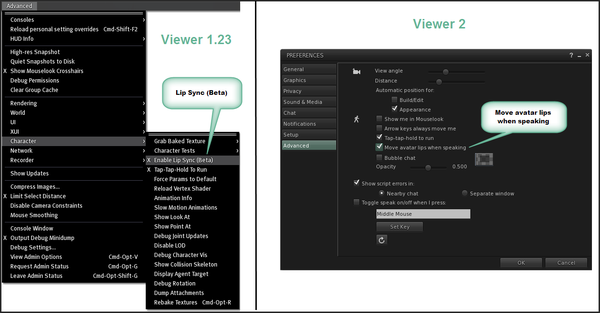 My Profile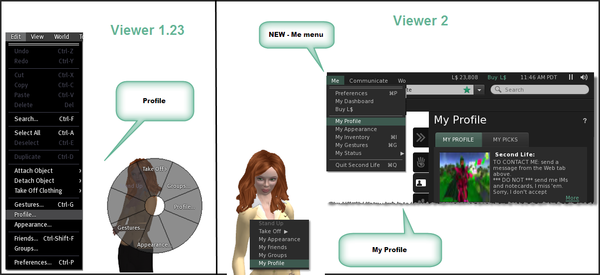 Rebake Textures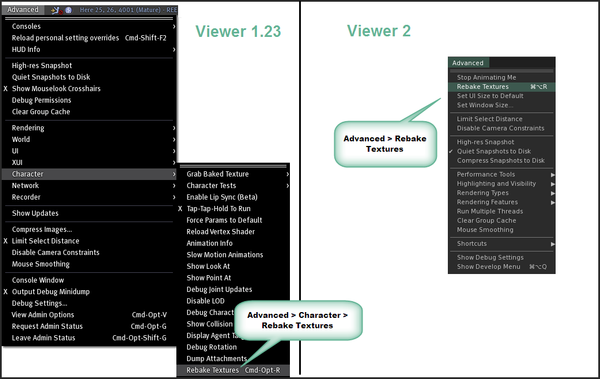 Show HUD Attachments
And related "show/hide" options.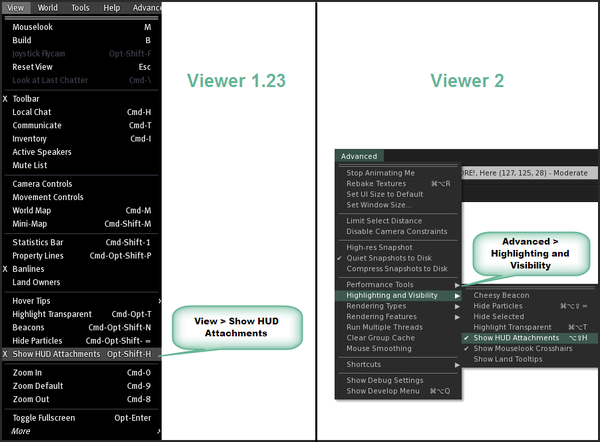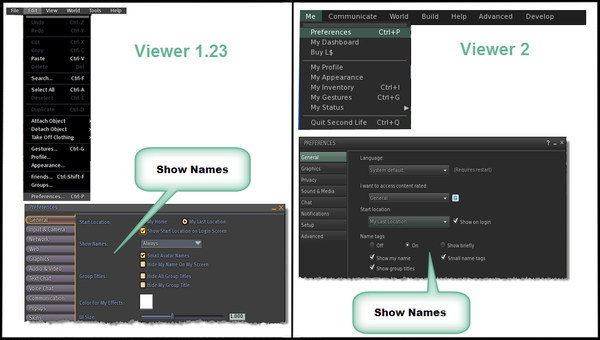 Stop Animating My Avatar
Now called Stop Animating Me in the Advanced menu.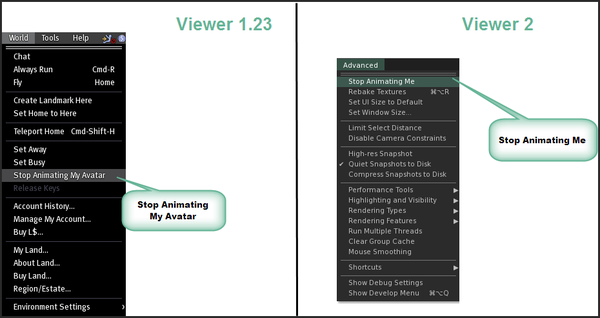 Building
About Land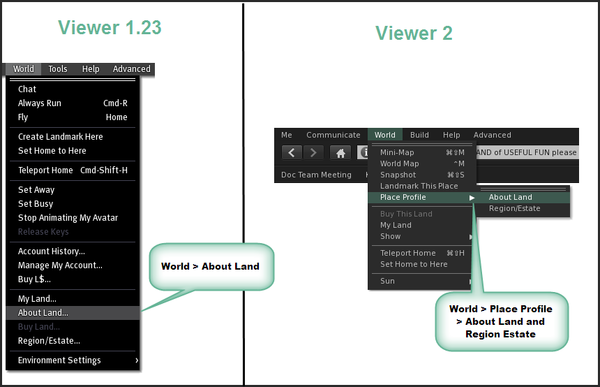 Grid options

Highlight Transparent
Property Lines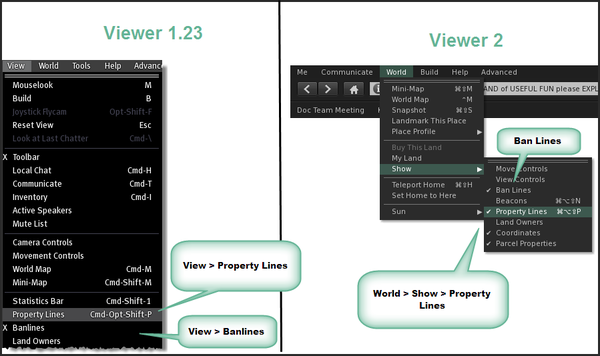 Save Texture As
Also notice in the Viewer 2 picture, there's a Save As option in the context menu.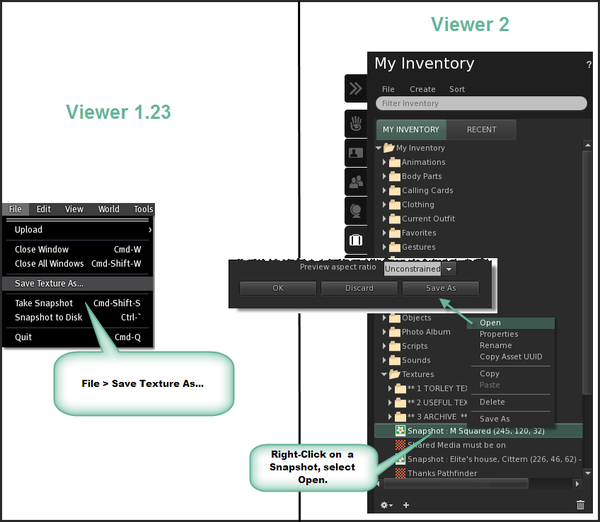 Undo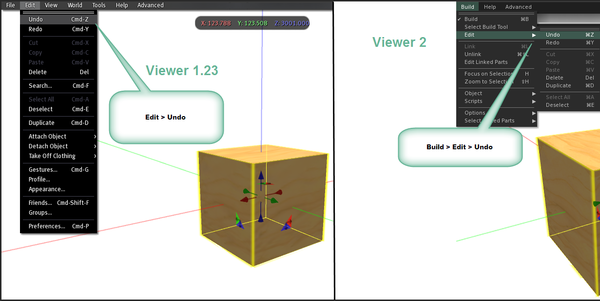 Upload files
1.23
Choose File menu > Upload.
2.0
Click My Inventory sidebar tab (the luggage icon).
Choose My Inventory's File menu > Upload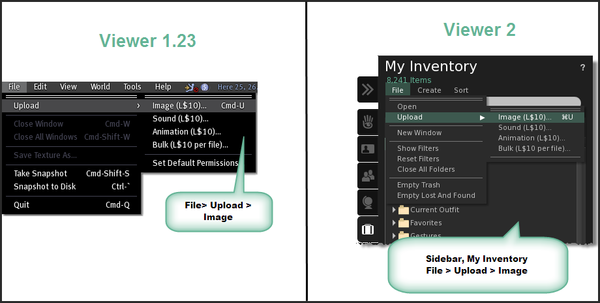 Communication
Active Speakers
Now called NEARBY VOICE.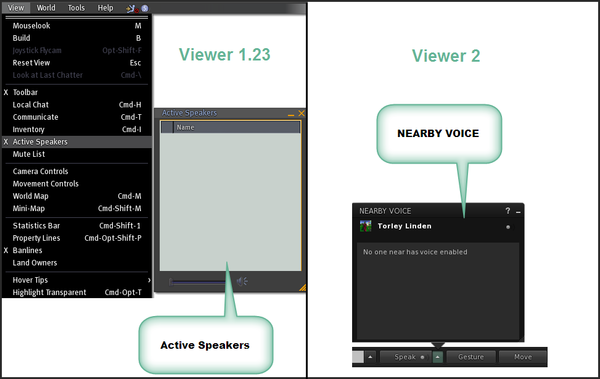 Chat logging options

IM tabs in the Communicate window
Now shown as notifications in the bottom bar.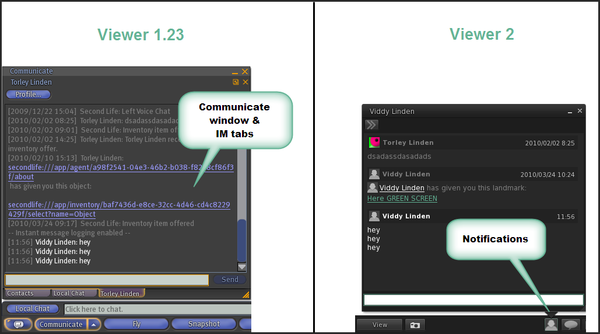 Language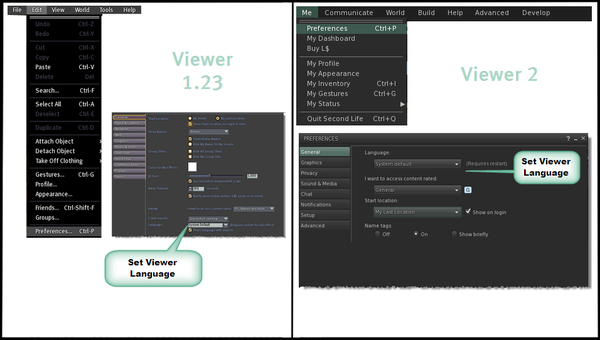 Media controls
Now called Nearby Media.
1.23
Look towards the lower-right corner of the Viewer window.
2.0
Look towards the upper-right corner of the Viewer window. It's the play or pause icon to the right of the time, next to the speaker icon.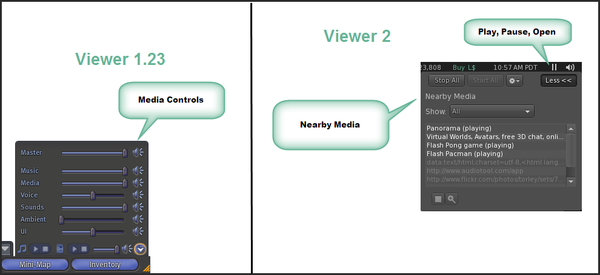 Mute List
Now called Block List.
1.23
Choose View menu > Mute List.
2.0
Click the sidebar's People tab.

Or choose Communicate menu > My Friends.
Or right-click your avatar and choose My Friends.

Click the

Nearby

or

My Friends

tabs.
Near the bottom, click the gear icon to show more options and choose Show Blocked Residents & Objects.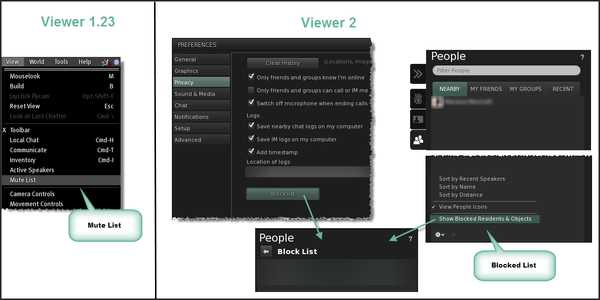 Notifications options
Now found under the Notifications tab in Preferences.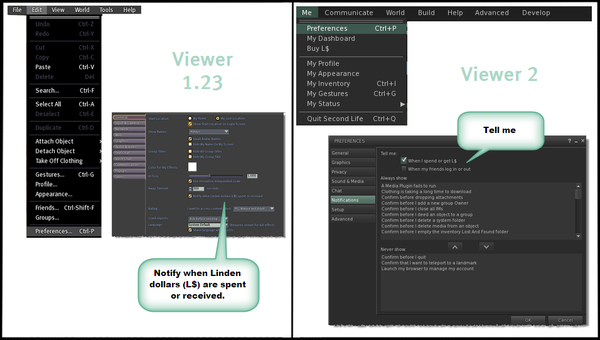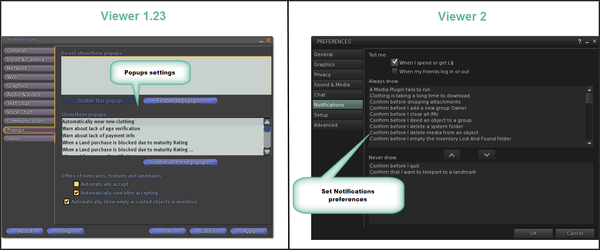 Preferences
Now found under the Me menu.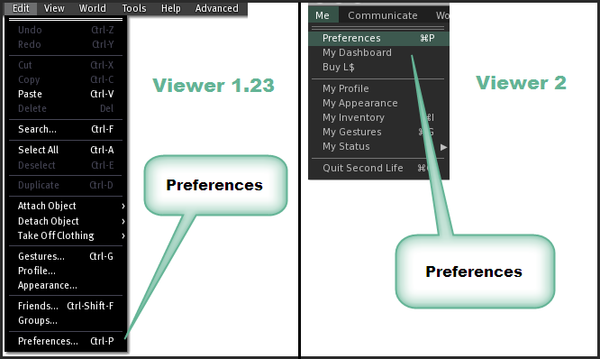 Revert chat display to old-style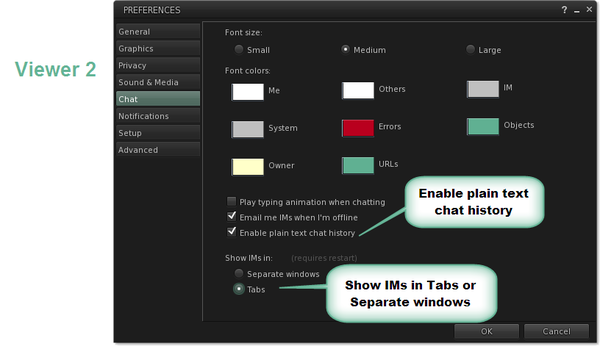 Send IMs to Email
Now called Email me IMs when I'm offline.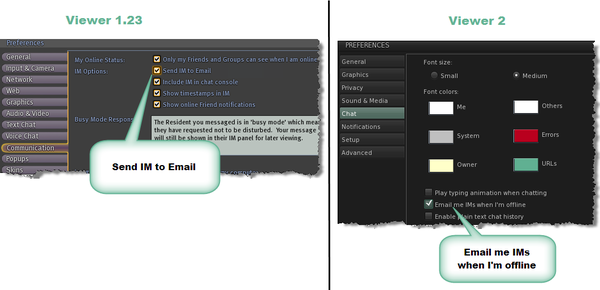 Set Busy and Set Away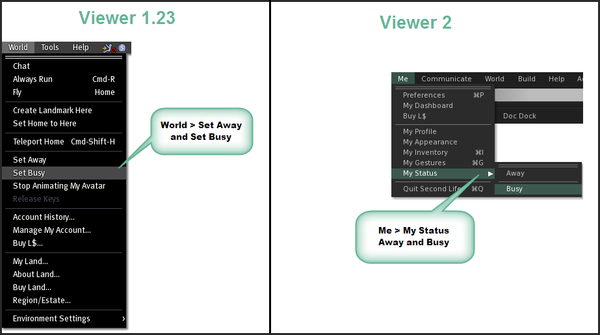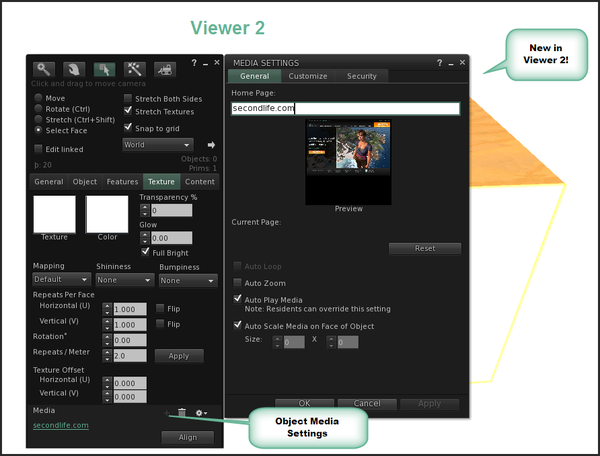 Teleport Home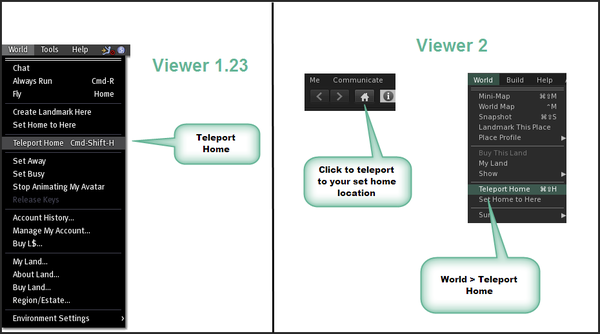 Voice Chat preferences
Now in the Sound & Media and Advanced tabs.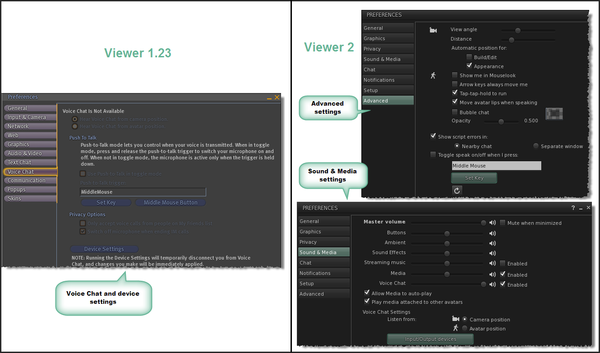 Inventory
New Window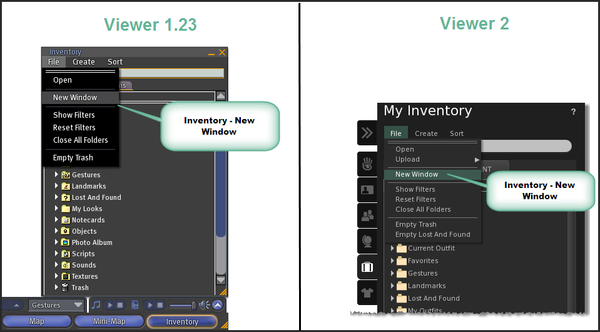 See what you're wearing
Has a proper tab in Viewer 2.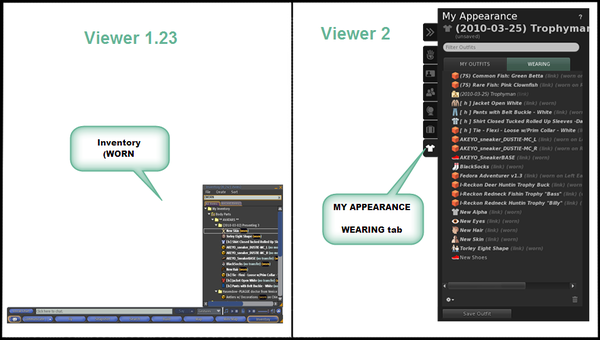 Camera and Movement controls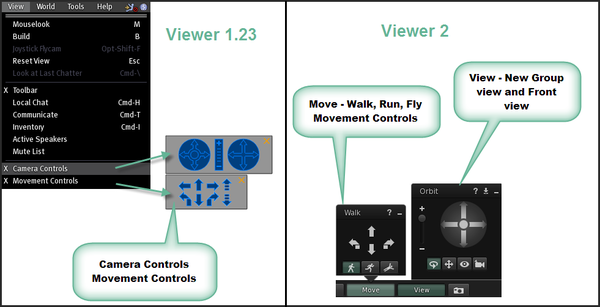 Camera angles
Has its own presets in Viewer 2. The old Mouselook View and Rear View are joined by Group View and Front View.

Clear cache
This includes the Viewer's texture cache.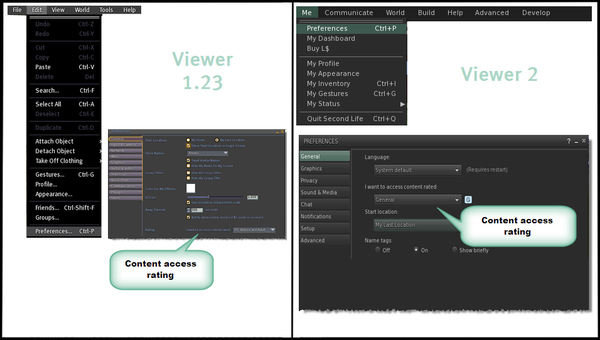 Parcel Coordinates and Parcel Properties
1.23
Look in the menu bar at the top of the Viewer window.
2.0
Right-click the location bar near the top of the Viewer window.
Enable Show Coordinates and Show Parcel Properties.

Set Window Size
More configurable in Viewer 2.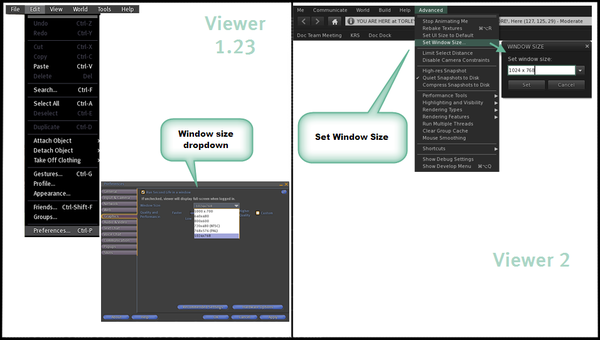 Various shortcuts
Various 1.23 shortcuts like Close All Windows, Zoom In, and Snapshot to Disk are hidden in 2.0 but most can still be activated. To see the list:
Enable Advanced menu. (It looks different but is activated the same way in 2.0 as it is in 1.23.)
Choose Advanced > Shortcuts.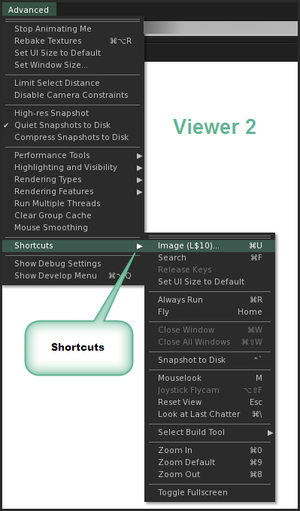 Start Location
Sets where you login.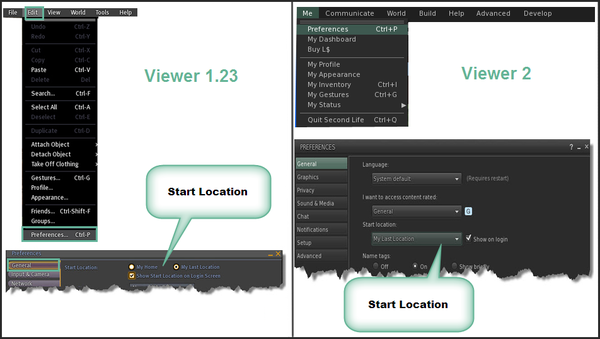 UI Size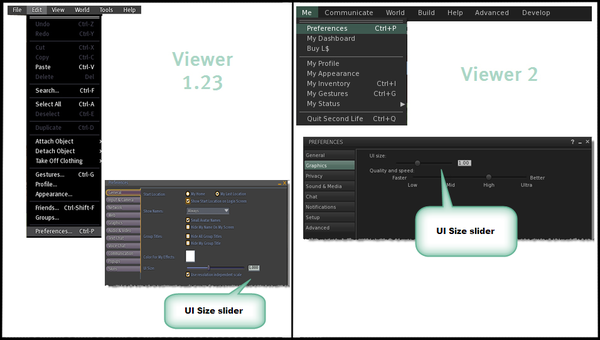 World Map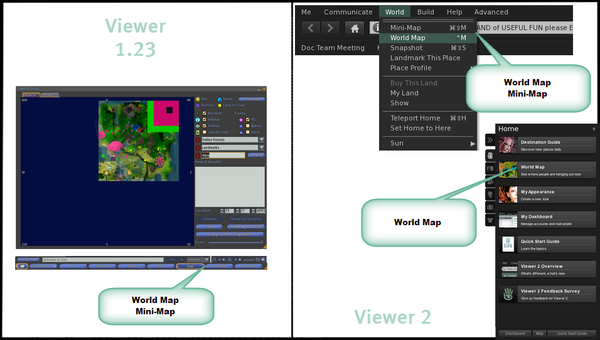 Other stuff
A few of the above moves are shown in a fun video!
<videoflash type="youtube">pAW7uN0CqDs|640|480</videoflash>