Voice Mentors
Jump to navigation
Jump to search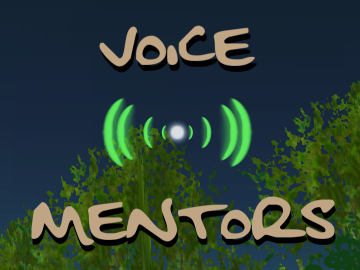 The Voice Mentors Group seeks to promote the effective and efficient use of voice in Second Life.
Mission Statement
We believe that voice has its place in Second Life and that if anyone wishes to speak they should be allowed without reservation or prejudice. Second Life will remain primarily a text based chat environment for some time but we are HEAR to assist anyone in a helpful and supportive way with any apprehensions or technical issues that those new to voice may have. Voice is fun…exciting…and HEAR, so talk to us!
==Mission Statement ==(Declaração da Missão)
Nós acreditamos que a voz tem um lugar no Second Life e que se alguém quiser falar eles tem o direito de fazê0lo sem reservar ou prejuízos.
Second Life permanecerá sendo um primordialmente um programa embasado em chats de texto mas nós estamos aqui para auxiliar qualquer pessoa que precise de ajuda ou suporte com suas apreensões ou dúvidas técnicas que novos usuários da "voz" possam ter.
Voz é divertido, excitante, então fale conosco!

== Group Meetings == (Reunião de Grupos)
A última reunião de grupo ocorreu em 20 de maio. Reuniões são geralmente mensais às 2:00pm hrs PDT nos domingos. A próxima reunião oficial está marcada par 10 de junho às 7:30 am PDT. Reuniões podem se tornar mais frequentes ou podem ser alteradas com a apoximação do lançamento da voz no servidor principal.
== Events == (Eventos)
O Grupo dos Mentores da Voz quer compilar uma lista de eventos planejados para Residentes do Second Life para dar as boas vindas à voz no servidor principal do Second Life. Se você estiver planejando realizar uma festa de boas vindas, por favor nos avise e se adicione à página de lista de eventos!
Events
The Voice Mentors Group wants to compile a list of events that utilize the voice feature. If you are planning to hold an event, please let us know and add yourself to the events list page!

Your Voice Mentors Group