Ajuda SL Brasil
Jump to navigation
Jump to search
Welcome to the AJUDA SL BRASIL Wiki Page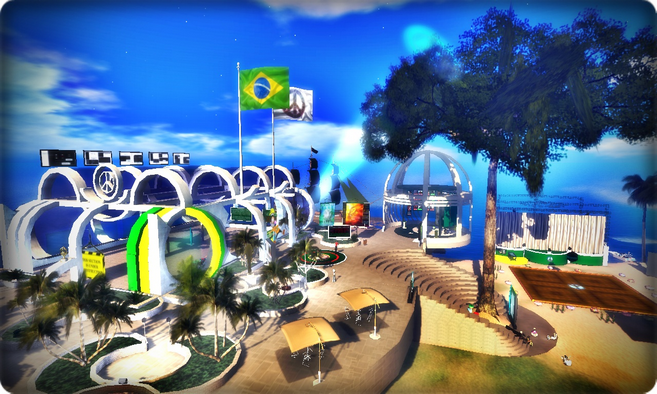 PRESENTATION
---
Created in May, 2009 by members of other support groups (such as Green Lantern - Brazil, members from the official Mentors group and some freelance Helpers), the main objective of this group is to support and lead new and old residents to understand what is Second Life.
The majority members of the group, are Portuguese speaking residents, who believe in the synergy of volunteer and collaborative work to improve this metaverse. The group began its work helping primarily the Brazilian community.
We are a heterogeneous group, enriched by the sum of individual knowledge about Second Life on several levels. We value primarily the ability to balance and moderation, even before the technical knowledge - convinced that the technical skills are something possible to acquire later on.
As a distinction, we have the collaboration of Brazilian creators that provide, in small freebie shops on our help island its products. By this we seek to encourage new paths of creation and mutual kindness between residents.
Our volunteers are oriented to the maximum tolerance. They should evaluate each case, listen to the resident requesting assistance and customize service - trying to meet the individual needs, leading the newcomer to the path of the Rules and tutorials available in the "Peace Building", whenever possible.
Our actions are based upon the volunteer TAO and the rules of the Community (TOS / BigSix), to which we add 3 other guidelines:
1 - Do not engage in any commercial activity. No partnership involving business interests, financial gain or advantage for him or others. Except donations in the TipJar for maintenance of our help island;
2 - Do not direct any resident to a specific business or commercial island. We teach the use of the search tool. Exceptions can be made wisely and at the discretion of each volunteer for public places of an educational nature, romantic, leisure or LL institutional.
3 - We advise that it is forbidden to give gifts (transfer items) in our help island, other than those contained in the default welcome kit; we are not tolerant of towards copybot users, and illegal copied items.
PARTNERS
---

1) PHOENIX WAVE TEAM http://www.pwmentors.com/
Member of the approved Resident Help Network (RHN) official Linden Lab's program.
Provide a friendly & informative point of contact for the diverse range of issues and questions posed by residents within Second Life®.
An international coalition of individuals dedicated to helping make residents virtual experiences a joyous one!
We provide help and support for residents (new and old) in-world.
In collaboration with Ajuda SL Brasil group & Moonlight University

<videoflash>WDXgL4mYRaw</videoflash>

2) WHITE TIGER MENTORS http://wiki.secondlife.com/wiki/White_Tiger_Mentors
Member of the approved Resident Help Network (RHN), official Linden Lab's program.
Active Volunteers who are willing to help people by sharing knowledge and useful tips.
Real international Network of assistance for online, 3D virtual environment Users (SL).
Associated with White Tiger Help Island, ROF Coalition Island, Solace Beach Welcome Area and Ajuda SL Brasil >> (PG) <<.

PICTURES FROM AJUDA
---