Bembecia City
Jump to navigation
Jump to search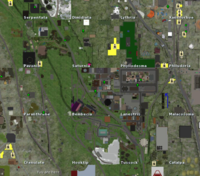 Bembecia is an unofficial city located in the East mountain region of Heterocera. It is the second city of this continent after Calleta City.
History
Bembecia is a mountain sim in Heterocera. Its development improved a lot after the railway construction. First, a railway was built to connect this sim with the main railway system. Later, other rails connected it with all neighbor lines. Slowly, private rails were also bult, including a tram system that later was assimilated into the huge Bembecia-Hooktip railway maze. The urban development was also for other structures and included constructions of roads (including private roads) and many buildings (smaller or higher). And so, in the end, Bembecia grew up to the limits a city requires to be listed in City & Town.
Unlike Calleta City, Bembecia shows more stability. Also, Calleta is highly affected by the death of West Atoll Railroad, while in Bembecia no railway is in such risk.
Structure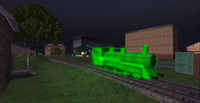 Bembecia City covers many sims, including Bembecia, Hooktip, Tussok, Pavonia, Parantherne and Saturnia.
Bembecia is the former urban sim. It hosts part of Bembecia-Hooktip railway maze. It has some urban constructions.
Hooktip is well-known to host the largest railway maze of the grid. It is a paradise for railway lovers, where you can easy get lost.
Parantherne is a mountain sim, most known for its mountains.
Pavonia is the authentic mountain sim, an important place to start visiting Mountains Of Heterocera and end of a railway line.
Saturnia can be considered as the suburbs of Bembecia.
Tussok is the East end of the railway maze, with less urban structures.
Geography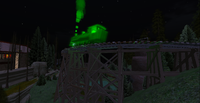 Altitude rises to 144 meters. This is an alternance of plateaus separated by high ground walls, that forced road and railway constructors to use various methods to allow accessibility. The presence of plateaus and mountains was very important in city development.
The most spectacular part is Pavonia sim, with its mountain railway and Pavonia Pass.
See Also