France3d
Jump to navigation
Jump to search
France3d Sentu Novio is a sim in Second Life and home of a French speaking community with a Community Gateway for new Residents.
Welcome !
For the first steps of a French-speaking avatar in Second Life, France3D is the ideal starting point.
The France3D Sentu Novio sim proposes to follow an orientation path for newbies and intermediate avatars. It explains clearly the different functions and possibilities in Second Life, through friendly games (camera control, funny objects, giant zip line...). At any time, the visitors can meet French-speaking helpers (easy to identify with their tag over the head). They are always available to answer any question.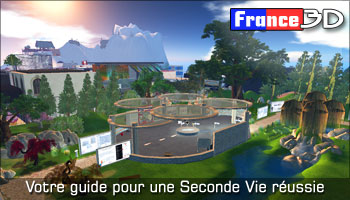 The graphical environment has been specially built by experienced helpers and builders so as to make all the visitors enjoy the beauty of this place. With the panoramic view from the lighthouse, the meeting with wild animals or the free learning on the sandbox, the visitors always keep a nice memory of Sentu Novio !
Then, they can browse all the France3D continent, full of activities and resources : shopping, games, clubbing, snowboard run, business, art & creation, good bargains, lessons, cultural events and entertainments.
Related Links
Related Groupes
FRANCE3D Group for the welcome area and the orientation path, sandbox and freebies (discover the world of Second Life and its pleasures)