Freedom Microcontinent
Jump to navigation
Jump to search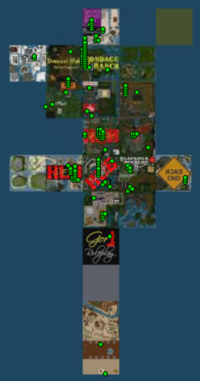 Freedom (also known as A038 as its transitory name) is a Microcontinent located at Coordinates 751-755/1010-1019, Grid Sector G10, Western Ocean.
Structure
The official name is Freedom Continent, but it has only 20 sims, while for the Continent status, it is requied to have minimum 30 sims. It is a very long and thin microcontinent. On map, it is very visible because it is very colored, with alternances of red and green. Large names are visible on map above many sims.
Geography
Geographic features are not so important. The buildings are.
This microcontinent is ranked adult and is more adult even then Zindra. It has adult hubs and big adult shops Some of the shops are large and ultramodern, while others are small. There is even a fair of adult items. Residential places are also present. In many places there are dark forests. As a bonus, young avatars (below 40 days) benefit of a free home with furniture.
Roleplay places are also present.
Population density is very high, mainly in hubs. There are many places for hangout.
Land Status
Freedom is a champion when comes to Inhabited Land. Large surfaces are Inhabited Land. Ban lines and entity orb teleporters, if they exist, they are rare.
See Also
List Of Microcontinents And Sim Clusters