Mission Beach
Jump to navigation
Jump to search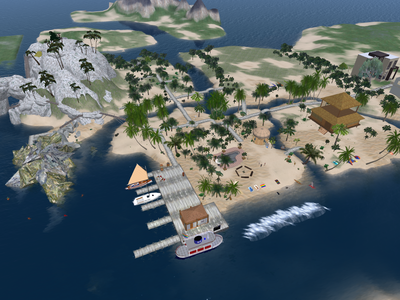 Home of the Mission Bros. Beach Bums
(until 5th of dec. 2009)
Mission Beach hosts the Mission Bros. Group of around 1000 members, gay and friends who can hang, have a talk and relax here by the [[::Mission Beach/Logs|Logs]] or build and script (or learn - staff is willing to teach on kind requests) at the [[::Mission Beach/Building Area|Building Area]]. Newbies are very welcome!
The group, is being run by a group of friendly senior members, keeping up the great work and the good mood for the Beach Bums. We are happy to offer the nonprofit hangout place to the awesome community - we try to take care of now.
But to continue with the activities: Windsurfing is possible on and around the whole sim since there is lots of water. Also a small [[::Mission Beach/Dock area|Dock area]] with bait shop allows the members to moor their boats temporarily.
In that harbor area of the waters, scuba diving is possible with lots of underwater stuff to discover. The [[::Mission Beach/Cliffs|Cliffs]] above and behind offer some more recreation and relaxation space. A walkway leads to their [[::Mission Beach/Top|Top]].
In the [[::Mission Beach/Thrift Store|Thrift Store]] one can find freebies for newbies and members and also a selection of several products of the creatives of the members can be found. On the 1st floor several of the residential sims around the beach on the continent offer their rentable spaces.
The Mission Beach is the engine and the primal cell that makes the New Pride Land continent work and stick together since over two years now sucessfully
back to Pallas