Sound configuration
Jump to navigation
Jump to search
Windows sound configuration
First, you have to make sure your sound settings are properly configured under windows
 Click on Start
 Control Panel
 Sound settings
 Audio devices

You will see a window that shows the Input and Output devices on your machine.
Go to the Audio Tab and make sure your devices are detected before you go any further. If they're not, go to the manufacturer's website and download the appropriate drivers.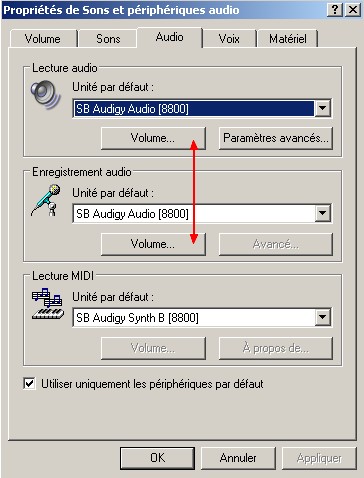 Note for the Audigy users : You may deactivate the embedded audio controller (i.e:AC97) on your motherboard. Edit your BIOS settings to deactivate the integrated Audio Controller.

Edit your audio settings and make sure the microphone is activated, and the volume is set properly.
Second Life sound settings
Press CTRL+P in Second Life to see the preferences screen.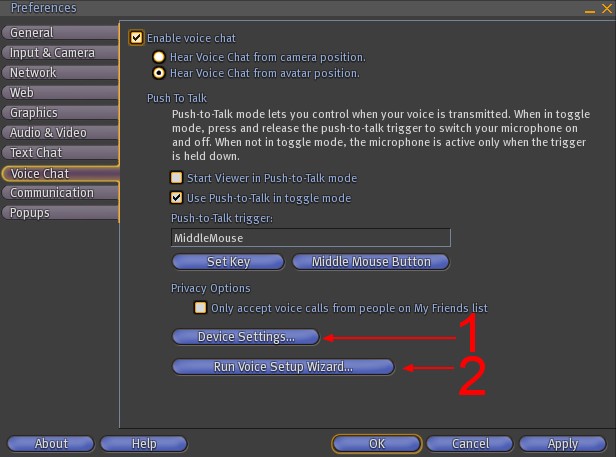 Click on the both buttons you see on the picture above.
1 - Make sure your soundcard is properly detected here. If not, go back to the 'Windows sound configuration' and make sure your card is properly detected by Windows.
2 - Run the Voice Setup Wizard and simply answer to the questions.
Activate/Deactivate the microphone
You have two possibilities here : Either you want to leave your mic open permanently, so people can hear you even when you're not speaking, or you can also activate the mic only when you are speaking. We recommend you use this last option, as it could be pretty noisy if everyone keep their microphone open in a public place.
Check the "Start Viewer in Push-to-Talk mode" and make sure the "Push-to-talk trigger" is set to "MiddleMouse". You can redefine or change the key here, but SL uses the Middle button of your mouse by default.Just hold the button and talk. Release the button to shut the microphone.
Using the voice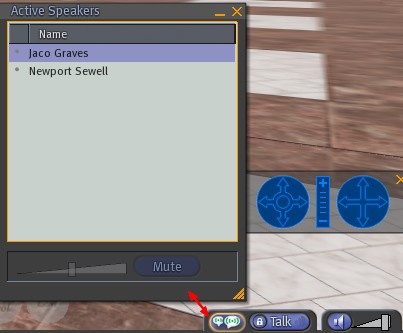 When the "Talk" button is highlighted, people can hear you. Push the wheelmouse or click the button to activate/deactivate the sound. The other button to the left will show you a list of people who are using voice around you. You can also mute a Resident from this window.
Jaco Graves 07:12, 5 January 2008 (PST)