The Corn Field
Jump to navigation
Jump to search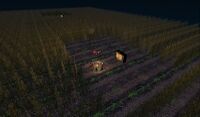 The Corn Field is a region of mythological status where once naughty avatars were sent to think about what they had done. "The corn field" is a vast star-lit field of corn and was cut off from communication with the rest of the world (a reference to the classic Twilight Zone episode, "It's a Good Life").
It is currently located just to the north and west of Shermerville, and entry is by LL invitation only.
Replicas of the corn field, open to the public, have occasionally appeared elsewhere on the grid for special events.