User:Jezzie McCellan
Jump to navigation
Jump to search
Jezzie McCellan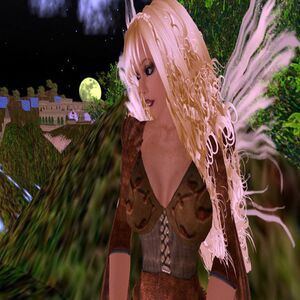 I have been a resident of Second Life since August of 2006. I take great joy in so many aspects of SL. I truly enjoy changing the appearance of my avatar on a whim. I have many different forms. I treat my human form as a "Barbie doll". I love to explore our SL world and to find a new interesting place. I have a vast experience in Second Life:
I am a builder and I enjoy creating SL art and photography.
I have had an art gallery and design studio where I sell houses, furniture and home decor.
I am an Estate Manager for several sims including a retail sim, a non-profit educational sim, and a Community Gateway
I co-owned a Rock Club and managed several others.
I am a DJ. I really enjoy bring music to other residents.
I have experience in Training new residents and new Volunteers.
I am a former Official Second Life Mentor.
I feel my greatest joy in Second Life is the relationships and social experiences I have here. Like many others I have been amazed at the depth of friendship one can form over a internet connection. Like many other Volunteers before me, I wanted to be a Volunteer Mentor because others helped me. Before I became a mentor I was often helping out with any new resident that came my way. Since I became a Second Life Mentor, I have found a group of people who inspire me. I am often amazed at the intelligence, the truly giving nature, the kindness and of course the humor of this group of people. I am grateful to be included among them.
Currently I am the Lead Trainer for Mental Mentors Training Division and D.C. District Community Gateway as well as a Manager/Counselor for Mental Mentors Volunteers
Every day in Second Life is a new adventure and an opportunity to share what I know, help someone find their own way and make new friends!
OK so here are some Links I believe are helpful....