User:Mako Nozaki/The Solutions Against The Viewer Troubles
Jump to navigation
Jump to search
Why my SecondLife Viewer 2 or 3 won't work on Mac OS X or Linux despite working on Windows?
If you have trouble such as ...
Have to wait forever before login. (e.g. "Logging in ..." for literally a minute)
After login, you can't see the neighbor sims at all.
If you try to teleport, you will be kicked off from the SecondLife grid.
Messages
You may see lots of following messages in the log file:
WARNING: BaseCapabilitiesComplete::error: 499: STATUS_EXPIRED
INFO: error: LLInventoryModelFetchDescendentsResponder::error 499: STATUS_ERROR
WARNING: LLURLRequest::process_impl: URLRequest Error: 3, URL using bad/illegal format or missing URL, <EMPTY URL>
Cause
Probably because you specify private IP address as DNS server. You will need to review your DNS setting. You need to explicitly specify global DNS address for there. In general, if you access from behind home or office LAN network, your computer defaults to private address (i.e. "192.168.0.1").
How to check
Mac OS X
Choose Apple menu > System Preferences, and then click Network.
Click your using connection in the network connection services list. Click Advanced... button.
Click DNS tab. You will see like that: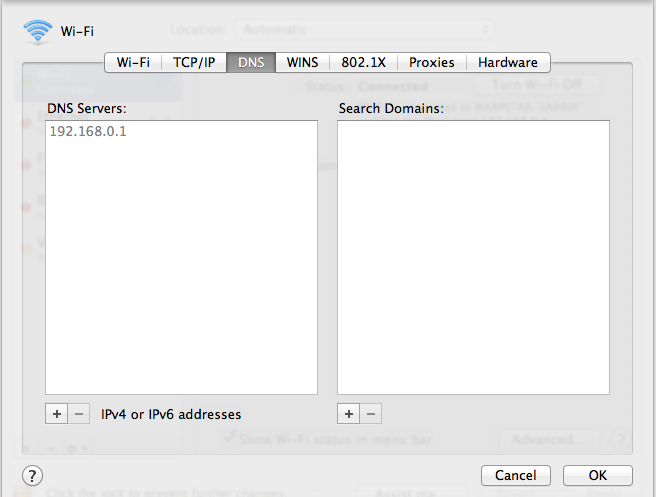 If the address in DNS Servers: pane starts with any of the following, proceed to the following step.
10.
172.16 to 172.31
192.168
How to fix
Mac OS X
Find out the global DNS addresses you can use. In general, you may find them in your internet provider's website. Or you may find them in your home router's setting page if it has. Or you can plug out your router and connect once directly connect your computer instead, and then look at your DNS setting again.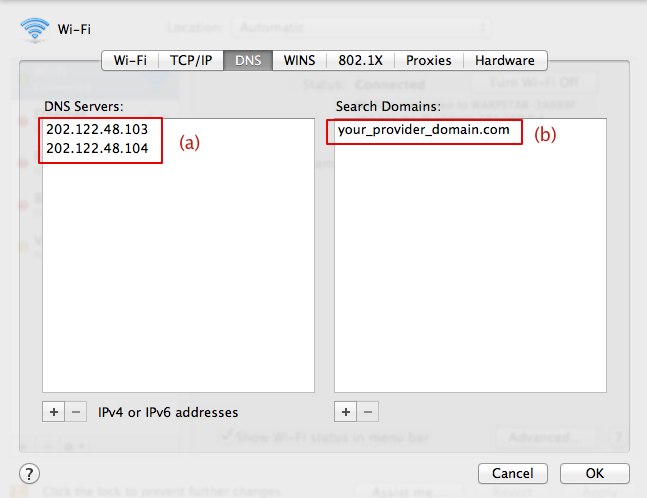 Click + button under the DNS Servers: pane (a).
Type the global addresses (primary, secondary) you found in step 1.
Optionally, provide your domain name in (b).
Click OK and Apply.
| | |
| --- | --- |
| | Important: Provide YOUR DNS addresses in DNS Server: pane. Please don't use the IP addresses in the snapshot above. |
C2220 + C4819 in non-English environment
When you see the message like this:
error C2220: warning treated as error - no 'object' file generated
warning C4819: The file contains a character that cannot be represented in the current code page (932)

(The message depends on the language you use.)
The cause is that the compiler fails when it try to treat BOM in some characters. Currently, the header files from COLLADA dom have several type of such characters. You need to dig in Drive:\your_path\build-vc100\packages\include\collada\1.4\dom and change all of them to avoid these errors.
| Character | Should be |
| --- | --- |
| " | " |
| " | " |
| – | - |
| ' | ' |
| ' | ' |
If your editor has grep-and-replace feature, you can easily do that. Or, you can use sed, awk or other command line tool as well. In Cygwin or shell kin, cd to the header files directory above and run:
for FILE in *.h; do cp $FILE $FILE.bak; sed -e "s/[""]/\"/g;s/–/-/g;s/['']/'/g" $FILE.bak > $FILE; done

Missing msvcp100.dll/msvcr100.dll
Probably when you use Windows7 and VS2010, you may encounter some error message complaining about lacking msvcp100.dll or msvcr100.dll. It seems to have been solved in STORM-1150, but still has problem (maybe because of the double backslash (\\) in result). You will need to do manually copy missing dlls from C:\Windows\System32 to Drive:\your_path\build-vc100\sharedlibs\Release.