User:Ppaatt Lynagh/Profile
Jump to navigation
Jump to search
P.S. Later Groups: Cooperation française, DIDACTICA, Dobbs, Escapade!, LIfe 2.0, Linden Script Tutorial Group, Spanish SL - Mi Segunda Vida, Teachers Explore Cultures & Careers
Profile - Ppaatt Lynagh
On 2007-11-04 my Profile and Groups Activate did say ...
2nd Life
Born: 9/1/2007 [meaning 2007-09-01]
Resident
No Payment Info On File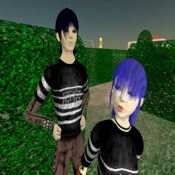 Photo [of us both]
Active Title: Free Culture Fan
Groups: AppL$tore, Christian Artist, Free Culture, LSLogo, Open Source Scripters
2nd Life - About
Hola, salut, hello.
We have two avatars for three people. Two of us are partnered in real life and second life, the third person is our child.
INTP P P P and ISFJ J J J are us in Myers Briggs.
Web
http://wiki.secondlife.com/wiki/User:Ppaatt_Lynagh
Interests
Build, Explore, Meet, Be Hired
Give us a fun scripting challenge, why not, we work for free.
Scripting since 2007-09-01
Español, Français, English
Picks
Amusement Park at Encogia: Ride the bumper cars with a friend. Learn to dive. Ride the carousel amd Ferris wheel and so on. Free of charge. http://slurl.com/secondlife/Encogia/135/157/24
Child's Play at Gothinger Christian Fellowship: Play on a see saw, swings, and merry go round. Camp by a stream, see fireflies in the evening. Free of charge. http://slurl.com/secondlife/Kane/172/121/27
Horse Farm of Dee McLean: Ride a horse, buy a horse. Free of charge exactly once in your second life. http://slurl.com/secondlife/Olive/122/174/59
Newbie Welcome at Sirena Hair & Fashion: "Workspace Buster" - a free private sandbox sky platform - buy for L$0 on the South wall of "Sirena Hair & Fashion" at West Sunset 156, 18, 25. Free of charge. http://slurl.com/secondlife/West%20Sunset/156/18/21
Tutorial Exhibition of Linden Script Language (LSL): Walk by a wall of posters to learn the Linden Scripting Language (LSL). Free of charge. http://slurl.com/secondlife/Daydream%20SE%20Islands/219/41/23
Underwater Garden by Rose Karuna: A garden underwater, with a bench to sit on. The picture here shows the garden above water -- the Teleport button shows you the garden below water. Free of charge. http://slurl.com/secondlife/Furu/5/64/11
Zoo & Games: Zoo animals, parrots, giraffes, no fences, no cages -- also a topiary garden of backgammon, chess, and parcheesi games to play with friends. Free of charge. http://slurl.com/secondlife/Apollonia/162/81/25
1st Life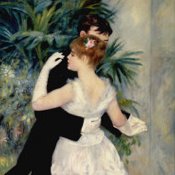 Photo [as if of us both - Renoir, Dance in the City, 1883]
1st Life - Info
http://www.linkedin.com/in/plavarre
http://www.google.com/search?q=Pat+LaVarre
nlz:plavarre
http://home.comcast.net/~kngjon/truename/truename.html
was our first vision of the second life, i.e., the novella

 True_Names