User:Tom32 Anatine
Jump to navigation
Jump to search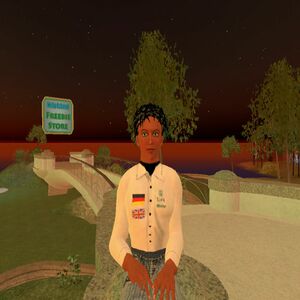 My account was created on 5/7/2007. The reason for joining Second Life was not primarily to experience the new world and find out what it is like to be a virtual person, but more to assess the risk related to Second Life to minors, as at that time the media was reporting about certain different things that made parents in my local region worried how far this new hype could be a risk to their children. Therefore I assessed how far the world could be used by minors and how high the risk level would be once that a minor managed to get in-world. Related to the German legislation which requires an ongoing control of activities that minors conduct on the internet the risk would be minimized in the case of the parents acting in their proper role, furthermore the world of Second Life was restricted to 18+ users at that time, which legally did not allow minors to join, another factor that reduced the risk. My first in-world experience had shown that becoming a child avatar at that time was relatively easy, it only took about one hour as new user to find out how to transform to a kid, but being a child avatar does not say anything about the activities related to the appearance.
While various 3d assets would have been technically allowing activities that by now are forbidden by the "Ageplay Policy" my knowledge acquired during the past years of my membership in Second Life has shown that the majority of child avatars just follows an entire PG lifestyle and enjoys a second childhood with parents being a part of virtual families. This second childhood was chosen by many of the players in order to experience a better childhood as the one that they experienced when being young themselves or just to enjoy the pleasures of being a child again. Both cases do not incorporate an ethically questionable activities, and being that Second Life is an environment which availability is limited by an age restriction the risk of real life children getting into close contact with adults that pretend to be children themselves is minimal.
Anyhow one also has to realize that every system that allows abuse, would be abused sooner or later. This describes why the "Ageplay Policy" was introduced shortly after Michael Linden (at that time member of Governance Team) discovered a location which was massively used to perform sexual activities with child avatars while building a road on mainland. Again the community of players that engaged in such activities was a fairly closed group, which was mainly let by one person which I will not name at this place. This group continued activities even after the announcement of the "Ageplay Policy" mainly this relates to the fact of a question of the main-person of the group in question being unanswered in an office hour. Even though "Abuse Reports" seemed to have been taken into consideration more and more after the introduction of the policy, the policy created a general hate wave against child avatars which resulted in a high amount of reports being submitted, which eventually slowed down the entire process of working through the the tickets and therefore the quality of work related to such matters, please note that this is my personal point of view and not a fact.
During that time I became more and more a liaison between the adult avatar and child avatar world, dealing with the issues of both groups and connecting them, which allowed me to gain further insights to the matter, this is also why I may appear as a child-avatar, in other cases I may represent an adult avatar depending of the case-by-case requirements, my profile picture published here shows me as child-avatar on one of the Help Islands.
Representing a child has also shown positive effect in cases of conflict resolution.
I am following a PG lifestyle and mainly my Second Life consists of helping other residents, which is giving me a lot of pleasure.
Here on the wiki I "work" on translations of existing entries to make their content available to larger parts of the Second Life community. It amazes me each day to see how the different nationalities and cultures are meeting in Second Life, and I am proud to do my part to help this this inter -racial-continental-lingual and -cultural community.
How I help In-World
First of all I would like to say that everyone who would like to help other residents can do so, it is not neccessary to be in a special group our even work for the provider of the community, you just need a pair of ears to hear when there is a problem among other residents as well as you need patience and of course the wish to help.
When I helped for a while I joined first groups that were specialized on helping other residents, during the Burning Life Event 2007 I was given the high honor to be there as an estate manager and like that had the unique chance to meet alot of residents and help where it was needed.
A while after that a I became a volunteer in the Second Life Volunteers program, which allowed me to help residents in a very well coordinated way and at many locations. Unfortunately the Volunteers Program of "Second Life Mentors" was discontinued, therefore the following information is just for "historical record" and has no further relevance any more.
General information about the Volunteers Program
If you are interested in the volunteers program, or if you even think that you would like to be a volunteer yourself, you are invited to obtain more information about the program on our wiki portal. You can easily reach this by accessing the link shown below:
My roles within the Volunteers Program
As a Second Life Mentor, and by this member of the Second Life Volunteers Program you were able to choose from several roles to bring in your skills and direct your work to where you would have liked best to be active. To give you a better overview of what I was doing in the volunteers program see the roles that I was assigned to below.
Mentor Coach: Mentor Coaches were Mentors that have decided to share their knowledge with other Mentors by giving classes.
Mentor Buddy: Mentor Buddies mainly were seen as Mentors that were helping Mentors, especially those that newly had joined the volunteer program. They gave advice in the case of a problem and guided the new mentors on their first steps, but of course were there to help anyone else as well.
Apprentice Buddy: By the changes in the steps to become a mentor, the Apprentice Buddy role was created. Apprentice Buddies gave Apprentice Mentors a shadowing experience and provided them with useful information while they visited typical areas where volunteers could have be found, such as Help Island Public and the Welcoming Areas.
For information about my Shadowing Experience Layout please consult: User:Tom32 Anatine/Shadowing Information
Linguist Mentor: Linguist Mentors were Mentors that are speaking one or more languages. They provided assistance to residents that have limited skills in the English language or that come to a problem which they just cannot explain in English as well as they could do in their mother language. Furthermore Linguists helped to assure a higher service quality by the transaltion of several relevant articles of this wiki.
What are the questions I can help you with?
For sure, I cannot answer every question that occurs, since there is a high variety of used systems and presets that make each resident individual, but still I want you to know that if you have a question, you always can ask. For the case that I should not have the answer myself, I will us ethe available resources to help you in finding a solution. If that does not produce a satisfying result, I will give you instructions to submit a support ticket... My aim is to help you, not to say "sorry I do not know about this ask elsewhere" and not to give you any false information.
Useful help resources online and in-world
You have a question but you do not know where to look, or you have found an answer but quite still need help about the given information? Then you should never hesitate to contact one of the mentors! You can find mentors at several locations in-world, and we would be pleased to help you. Mentors wear the group-tag "Second Life Mentor"
The most famous location for in-world support is "Help Island Public"
Unfortunately the "Help Island Public" sometimes is very crowded which makes it difficult to access all the information given there, in that case I would propose you to step over to "Help Island Public2" where you find the same information (since it is an exact copy of the other Help Island) usually there is a Mentor available as well if the information given on the island should not cover your problem.
If you do not wish to contact one of the over 3000 Mentors or if you do not want to leave your current location in order to look for the needed information on one of the 2 public Help Islands the wiki will be the source of your choice.
If you are experiencing unexpected problems connecting to the grid, or when you occur to have a problem in-world that did not exist before but makes it difficult or even not possible to reach in-world help, I would propose you to check the Blog to see if your problem is listed there and effecting other residents.
Still it might happen that the Blog does not the information that you require. In this case it is the best idea to submit a Support Ticket by using the Second Life Support Portal. To submit a ticket, please visit the following website:
The Second Life Support Portal
The Community Translation Project (CTP)
I was active as translator and editor in the CT Project for various months and translated numerous knowledge base articles as well as parts of the viewer strings in close collaboration with the Localization Manager of LindenLab (at that time Danica Linden). Additional work to the translation work was reviewing the translations provided by other translators and approving those if possible, so that they could be handed in to the implementation process. This step was a first quality assurance measure, further quality assurance was provided by a third-party translation lab that was under contract by LindenLab.
After circumstances in my life made it no longer possible to contribute to this section of volunteering I decided to opt-out the role, as in my eyes it is of real importance not to cover such a crucial part of resident experience in a rush.
Virtual Helping Hands - Max the virtual Guidedog - Helen Keller Day
Even though my time was strongly limited after the changes in my professional life, I still contributed to certain projects, and here I would especially like to mention the projects by Virtual Helping Hands to raise accessibility of the 3d virtual world of Second Life. One big project of this non-profit organisation that is based on the efforts made by volunteers was to create a Guidedog that covers the same tasks in the 3d virtual world as in real-life.
To find out more about "Virtual Helping Hands" please consult this link: Virtual Helping Hands
More information about Max the virtual Guidedog: Max - The virtual Guidedog
Another big project of this group was the hosting of the Helen Keller Day event: Helen Keller Day
Recent Changes
After the Mentors program was discontinued the help by residents now is organized in the Residents Help Network (RHN) which is still organized by the VTeam of LindenLab. I am currently a member of various groups that are a part of the RHN but cannot provide as much support as before any more, as my professional live requires extended attention and time.