Zenshi Microcontinent
Jump to navigation
Jump to search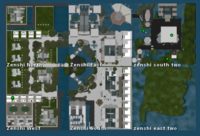 Zenshi is a Microcontinent with transitory name A065. It has Coordinates 850-852/1116-1118, so it can be found in Grid Sector H11, Western Ocean.
WARNING! This microcontinent has Land With Restricted Access. From 3 tries of teleporting, two times we were ejected in less then a second. The third time, we found a lot of ban lines and only a sharp parcel without restrictions. Access is allowed only with a special HUD. It is a place themed on the Zen ideology.
At the spring survey (March 20th 2014) this microcontinent was reported as missing from map.
See Also
List Of Microcontinents And Sim Clusters