A174 Sim Cluster
Jump to navigation
Jump to search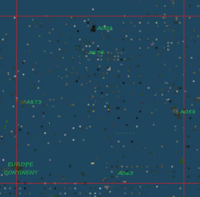 A174 is a temporary name given to a sim Cluster. Its position is at Coordinates 936-968/1374-1346, Grid Sector I13, Northern Ocean. It is South to Vampire Microcontinent and is under a clear influence from Bloodlines. An alternative name should be Vampire Sim cluster.
Structure
This sim cluster is formed of 25 sims. From August 2013 to end November 2013, a few sims vanished. It is spread on East-West direction. The structure is not homogehous and has many holes. Part of the sim cluster have a mathematical disposition (squares).
Land is usually not elevated. There is a high diversity of ground textures and of buildings. What makes this sim cluster special is the high diversity of sky textures, they vary from blue to dark and even red.
There are many types of buildings. Not all sims (in fact less then 50%) are Bloodlines-themed. This is the reason why we didn't use the name Vampire Sim Cluster, it might be considered a discrimination. There are a lot of shops, too.
Land Status
There are many estates, even in parts of the sim cluster that have mathematical distribution. This rises a big question: How was this sim cluster formed? Sim clusters with mathematical disposition are usually the creation of an estate, of a single working mind, while sim clusters created by random sim creation never have a mathematical shape. There are two possible theories. The first one is that Linden Lab placed new sims in this order, while the second theory is that these sims are the remnants of an older estate that has sold its land and vanished from the grid.
See Also
List Of Microcontinents And Sim Clusters