Vampire Microcontinent
Jump to navigation
Jump to search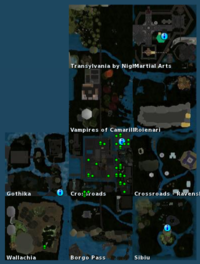 This is a Microcontinent placed at Coordinates 945-947/1391-1394, Grid Sector I13, Northern Ocean. It might be also called Bloodlines Microcontinent or Liquid Designs Microcontinent. It has the temporary name A002, that means it is the second structure found on the map by the Second Life Geography team.
Structure & Geography
This microcontinent is formed of 10 sims, linked together and with the posibility to travel from one sim to another.
From a strict Geographic point of view, land diversity is incredible. There is a very high diversity, from plains to mountains, from sharp passages to mountain roads. Sky is set to different hours and textures. Ground textures also vary up to high limits. Landscapes vary from green forests to haunted places.
Skyboxes are also present.
Land Status
There are roads and waterways of Protected Land and also some residents allow their land to be passed. Land With Restricted Access exists. Land is owned by a single estate.
Bloodlines Information
The Bloodlines game allows you to enter the dark world of the undead. If you get others' blood, the curse will make you need more blood. There are three ways to take your needed blood or lumen: by sending bite requests (this might be considered harass and can end to no good), by buying blood or lumen (requires money) or by creating more and more accounts to drink their blood and lumens. An interesting fact is that bite requests are a lot lower now (November 2013) then they were an year ago.
Also, if you don't want to play the game, beware of other people who wants to animate you. Beware of unwanted gifts.
To find out if somebody is a Bloodline member, use this link: Bloodlines search and type resident name in search.
It is not clear how many avatars have decided to play Bloodlines, but sure they are an important group. One unofficial estimation is that they are 20% of the total of active residents. More then half of them, however, decided not to lose humanity.
See Also
List Of Microcontinents And Sim Clusters