A015 Sim Cluster
Jump to navigation
Jump to search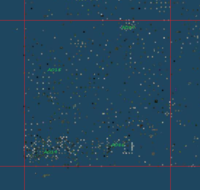 A015 is a Sim Cluster placed in Grid Sector E9, Coordinates 536-554/948-963, in Far West Ocean. It has the temporary name A015, that means it is the 15th structure identified on the map by Second Life Geography project.
Overall
A015 is composed of about 50 sims, majority of them sharing a mathematical disposition. They form a grid, with distances of about 4 empty sims between them (so it is a diffuse sim cluster). Not all sims are placed in this scheme and in some places there are sims linked together. It looks like they are owned by multiple estates. Many sims share the world Island.
Geography
More then 50% of these sims share a tropical beach texture and tropical vegetation. That is not a rule, there are places where ground is green or has other colors. Usually, the islands are flat, with Altitude set to 20 meters and sea level to 19.5, without mountains or holes, but also that is not a rule. On an island, there is submerged an entire coral reef, near a beautifull garden.
Buildings
There are multiple buildings, from castles to beach estates and even towns. There are decorative buildings, residential buildings and many places created for gamble.
Land status
Land is for sale in these islands, from small parcels to entire sims. There are sims where all land is Inhabited Land, but also entire sims with Unused Land, usually for sale. Skyboxes are present. Also, in many places there is a welcome area, so Protected Land is also present.
Gallery
See Also
List Of Microcontinents And Sim Clusters